We need to talk about Christmas and birthdays. And valentine's day and all those other times when you wrap a gift.
Consumers use approximately 227,000 miles of wrapping paper(1) each year during Christmas alone (and that's only in the UK!). That's enough paper to wrap around the earth more than eight times.
The amount of gift paper Canadians, in turn, will throw away over Christmas is the equivalent of 100,000 elephants!(2)
Are you thinking of skipping the gifts and just sending a card? Well, I've got some bad news. It's estimated that as many as 33 million trees(3) will be cut down for Christmas cards in the UK alone every year.
We're not advocating a ban on gift wrapping, far from it. We love surprises way too much, and unwrapped gifts just don't have the same effect. But at a time when we need to take concrete steps to protect our planet, it seems a bit silly that we are turning a blind eye to the devastating effects of gift wrapping.
We need to rethink how we do gifts. Period. Fortunately, it's not all doom and gloom, and this piece will teach you all about how to wrap your gifts in a more sustainable way. And you will also learn to seriously elevate your gift-wrapping game so that every gift looks like a masterpiece.  
Introducing: Zero Waste
In the simplest terms, living a zero-waste lifestyle means that you aim to send nothing to a landfill. You do this by reducing what you need, reusing what you have, recycling the products for which there are no zero-waste alternatives, and lastly, we compost what's left.
The 5 Principles of the zero-waste movement
The pioneer of the zero-waste movement, Bea Johnson, describes the zero-waste movement using the 5 "R's": Refuse, Reduce, Reuse, Recycle, Rot – in this order.
Refuse
The first R states that you should avoid waste such as single-use items such as disposable cutlery, plastic bags, junk mail and gift wrapping. These are the types of things guaranteed to end up in the trash after use.
Reduce
Reduce is as simple as cutting back on those items we don't need and avoiding unnecessary purchases. Think about cheap electronics that we know might break soon, fast fashion items that we are only planning to wear a few times or even that overpriced shiny metallic bow that doesn't add much to the gift.
Reusing
The third R, reusing, is one of the easiest to adopt. For example, you bought jam or something that came in a glass jar. You can easily repurpose that glass jar as a gift by filling it with something homemade: cookies or your own jam. Tie a ribbon around it and you have a beautiful gift. Other items can be bought solely for the purpose of reusing it such as fabric gift-wrapping that will literally last decades.
Recycling
Recycling is for those items that you can't refuse, reduce, or reuse. Most of us grew up believing recycling was the way to keep our planet happy. But unfortunately, it's not always as simple as that, and it should be seen as the last resort.
Rot
The last R is to rot what you have leftover by composting it. In an ideal world, all municipalities would have a composting program. However, if your city doesn't have one, composting at home is so much easier than you think with a variety of DIY or other solutions on the market.
Why recycling is not the best answer
When you recycle a product, it never comes back in the same form. What happens is called "downcycling". This means the materials that are being recycled ends up being turned into low-quality disposable goods. These low-quality goods are destined for the bin.
Unfortunately, even when recycling seems to be the last option, it might not happen. Not all wrapper paper is just paper. Sometimes it's also laminated with plastic or contains foil or glitter: all of which can't be recycled. Even worse, if you try and recycle it, it could jam the machines and ruin the whole batch of recyclable paper.
Another problem is that the current recycling infrastructure cannot keep up with the number of goods we throw away. So, a large number of this waste end up in landfills.
You might have already guessed it, but landfills aren't the solution either.
First, there isn't endless space for landfills. Wealthier countries often ship their waste to be dumped in landfills in developing countries. So it is exporting the problem.
Landfills also pose several health issues and lead to more significant pollution. Finally, landfills are a massive science experiment given all the material we let rot together.
Waste is sometimes incinerated in Waste-to-Energy (WtE) programs. These programs create pollution in the air, especially for those living close to the plants. It also leads to many materials being burned that could have been retrieved and recycled more efficiently. This could decrease reliance on solutions such as reduction, recycling and reusing.
If all this information is overwhelming, remember the most sustainable item is the one you already own. The next best thing is trying to get what you need secondhand.
If you choose to recycle material such as gift-wrapping paper, first check if it's possible to do so. An easy way to check is to do the scrunch test: if the pamper can be crumpled, most likely it can be recycled. But, if it resists scrunching, it's plastic or contains metal.
Zero Waste Gift Wrap Options Are Everywhere
I have great news! You don't even have to leave the comfort of your home to find a variety of zero waste gift wrapping options. Once you know how to look and what to look for, you'll never opt for store-bought wrapping paper again.
Ultimately, it's then a question of how much effort you are willing to put into DIY. But if DIY isn't your thing, don't worry; there are quite a few producers of sustainable gift-wrapping that we will share with you.
Your closet (Furoshiki)
Furoshiki is the Japanese art of wrapping valuable gifts and treasures from Japanese temples in material. Or at least that's how it started out.
Furoshiki has since become a popular way for people to wrap their gifts using a square piece of cloth or fabric. Any piece of cloth you can lay your hands on can be transformed into an elegant wrapping that will amaze your friends. If you can fold the material, you can use it.
There is a Furoshiki technique for all kinds of objects, be it long, slender, or even bottles. Check out this fantastic guide for an overview of Furoshiki techniques to wrap any item.
The best part of this zero-waste hack is that it's the perfect way to give old worn-out clothes and textiles a new life. For example, an old scarf used to wrap the gift now becomes a part of the gift. Use the cut-offs of the material to turn it into cute bows or use it to dress up a mason jar.
We like to include a little card with an overview of wrapping techniques to inspire the receiver to reuse the material.
Around your house
Your house is already full of wrapping materials if you just know how to look. And if you don't have any material such as newspapers lying around, grab one of the free ones you find in places like stations.
Think about shoeboxes, magazines, sheet music, maps, your kid's old art, buttons, dried flowers, old birthday and Christmas cards. The list is endless. I like to keep a designated spot where I keep bits and pieces that I know I can upcycle to become gift-wrapping or decorations. Later on, we'll be sharing exactly how you can give these everyday items a new life.
Thrift shops, flea markets & yard sales
Suppose you don't have any old clothes that you are ready to turn into a Furoshiki masterpiece head over to your local thrift shop or flea markets for inspiration. Maybe you'll find a beautiful scarf to wrap your gift in or a set of cloth napkins that you know your friend will use.
The thrift shop is also a great place to find some treasures that can be used as decorations to give your wrapped gifts that final touch. Don't forget to keep an eye out for some old tins and antique boxes. These items beat a regular shop-bought gift box any day.
Your latest shopping spree
During your last shopping spree, you got a lot more than you bargained for! Your old shopping bags are some of the easiest items to upcycle.
Even if your bag has a logo you don't like, stick a card or a decoration on it, and you are good to go. Alternatively, splurge on a beautiful reusable material bag as part of the gift.
You can take this to the next level by including a reusable or tote bag as part of a zero-waste gift box.
Specific sustainable makers
If you are still dipping your toes into the world of zero waste wrapping and prefer something a bit more traditional: I've got you covered.
There are plenty of companies that now make sustainable wrapping material either out of recycled paper or fabric. This paper is made without glitter, metallic ink, foil, or glitter. So, you can rest assured that this paper can be recycled. However, they tend to be thick enough to withstand wrapping a second time around.
If you want to try out your Furoshiki wrapping skills, you can find fabric in almost every color, material, and design imaginable.
Read on to see my list of favorite sustainable makers.
Your (almost) trash
I know, I know. This might sound like I'm taking it too far but hear me out. Did you ever stop to notice the pretty metallic material on the inside of a crisp packet? Later in this article, I'll show you how to transform this into stunning gift-wrapping material. If you have any crumpled or ripped paper, you can also repurpose that as filler for a giftbox with something fragile.
30+ Zero Waste Gift Wrap Ideas
Blankets & Sheets
Some of the best material to use is old sheet and blankets. They are easy to cut into various sizes, ideal for bigger gifts. Sheets can also easily be turned into a Furoshiki bag or even as a bag for your yoga mat.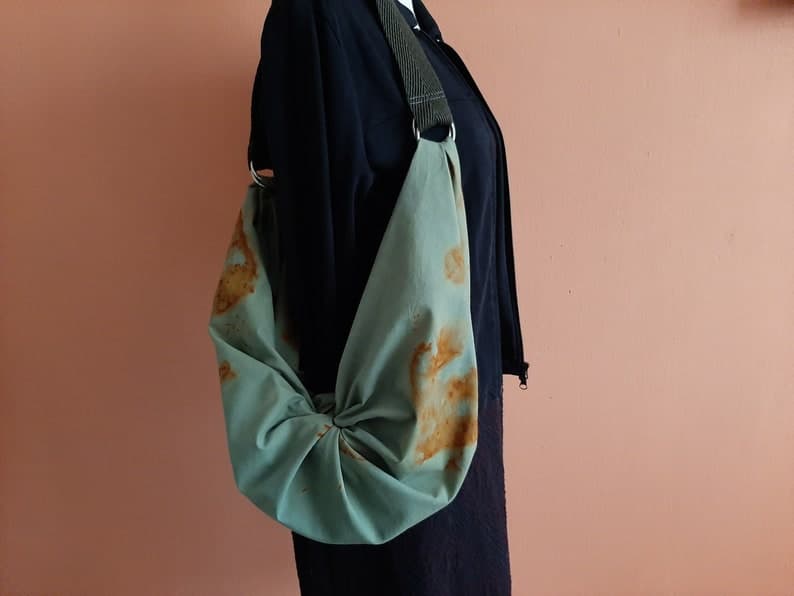 Tea or kitchen towels and napkins
These items are already the perfect size for most gifts, cutting down on additional DIY time. For example, wrapping gifts in a kitchen towel is a sweet way to personalize a gift for a kitchen-tea, or buying a set of linen napkins wrapped in one is perfect for that friend that loves dinner parties.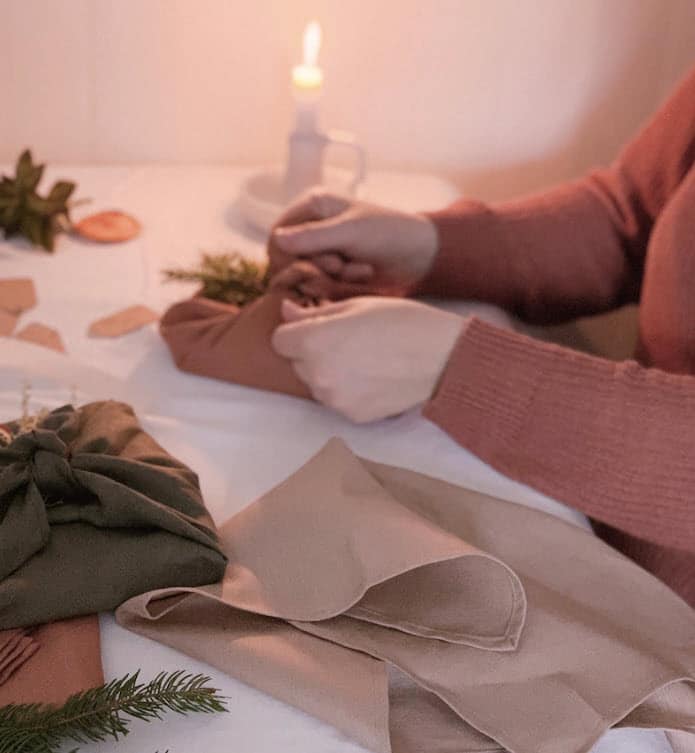 Scarves
This is my favorite way to wrap any gift as this is the ultimate 2 in 1 wrapping. Every time I'm at the thrift shop, I pick up any beautiful scarves that catch my eye, and I save them for upcoming birthdays.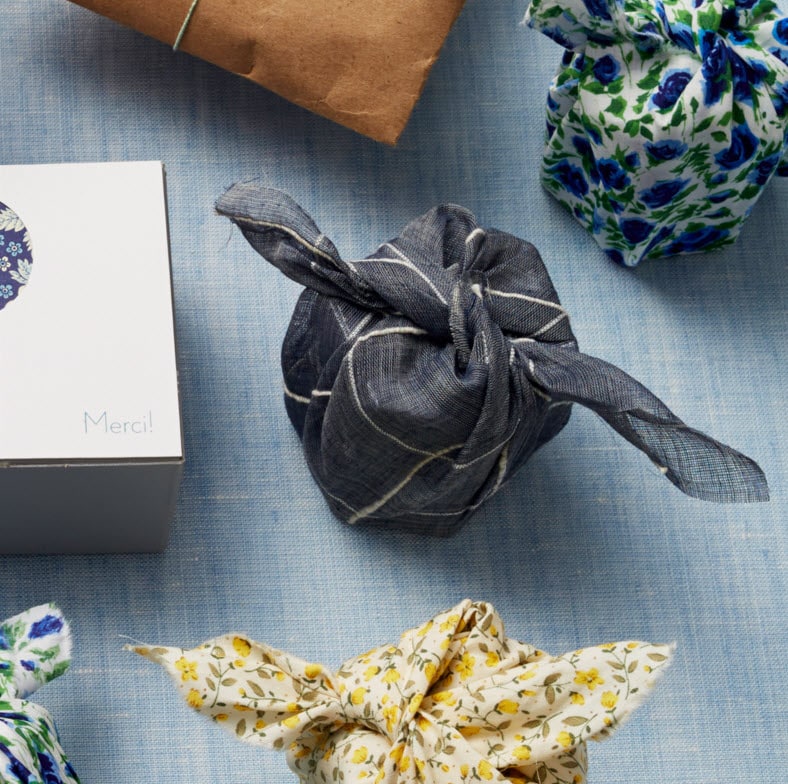 Vintage Linen
The thrift shop or flea market is also the place to look out for any vintage linen. You know you have some friends that will appreciate the unique patterns.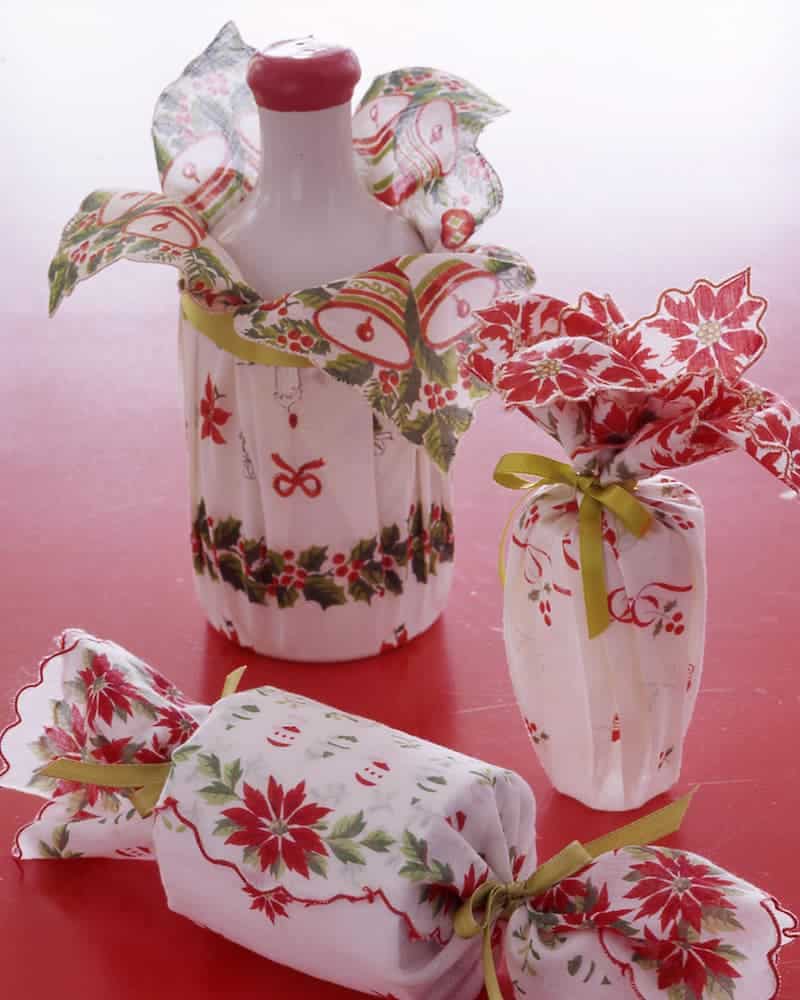 I'm always surprised by how elegant a gift wrapped in something as plain as newspapers can look. Especially in the months leading up to Christmas, I already keep an eye out for pages or comics I like. The comic section is ideal for kids! And if you are lucky enough to find old newspapers or sheet music, it makes for a super elegant finish: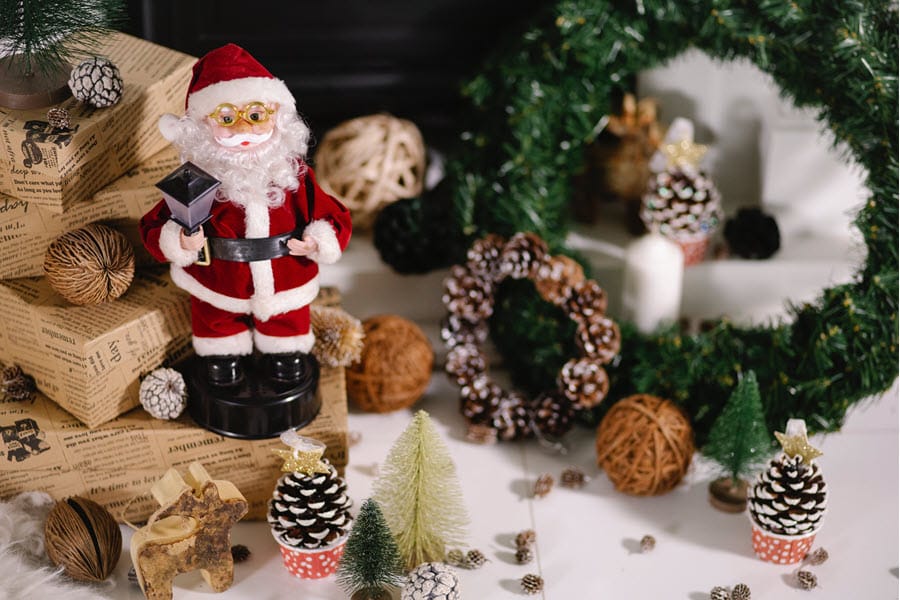 Kraft Paper
Kraft paper might be the holy grail of gift wrapping. Especially if you can find recycled craft paper, you are in luck. This is the ideal material for wrapping gifts as it's often stronger than regular paper, and it doesn't involve extensive bleaching. It's also free of unnecessary glitter and plastic, making some wrapping paper unrecyclable.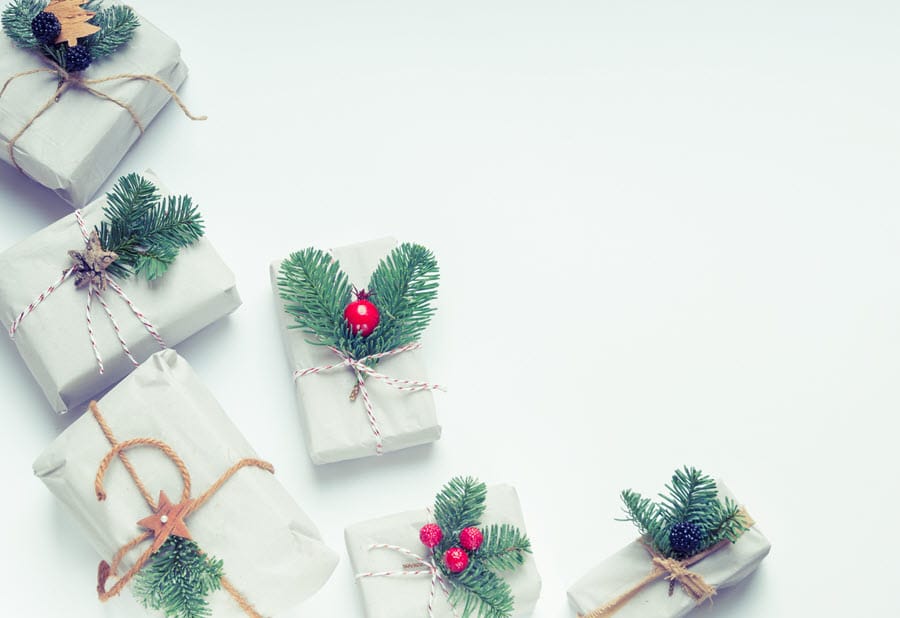 Kraft paper is also easy to personalize by directly drawing on. Have a look here for some more creative ideas about decorating kraft paper.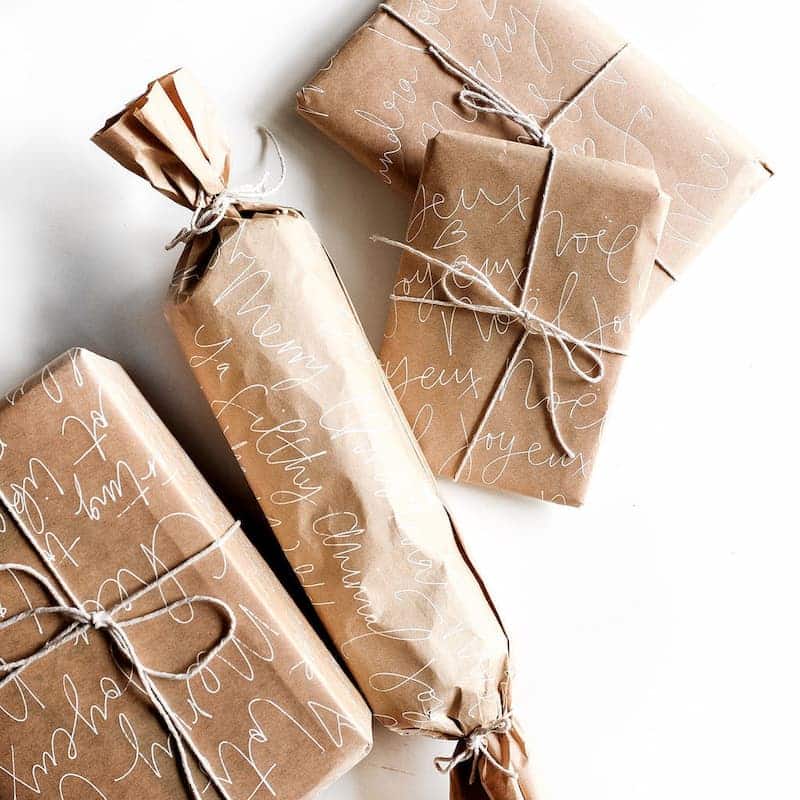 Empty paper or toilet rolls
You can turn any toilet or kitchen paper roll into the cutest gift boxes for smaller gifts. Add a decoration like a bow, and you have the perfect gift box. No glue or scissors are required. All you need to do is fold the edge of the roll inwards into a half-moon shape. Next, fold the other edge inwards as well so it overlaps. Repeat on the other end. As simple as that.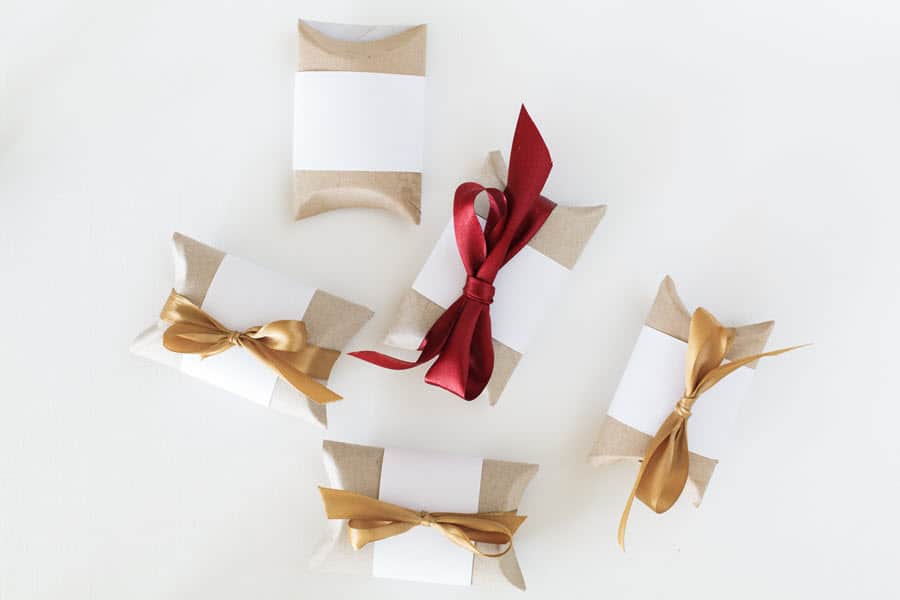 Shopping Paper Bags
Sometimes you can reuse a bag precisely as is, and maybe you stick something on to cover the logo. Other times, you need to put in a little bit more effort to make it look stylish. We found an incredible video tutorial that details exactly how to turn any paper bag into an adorable gift bag. Check it out via this link.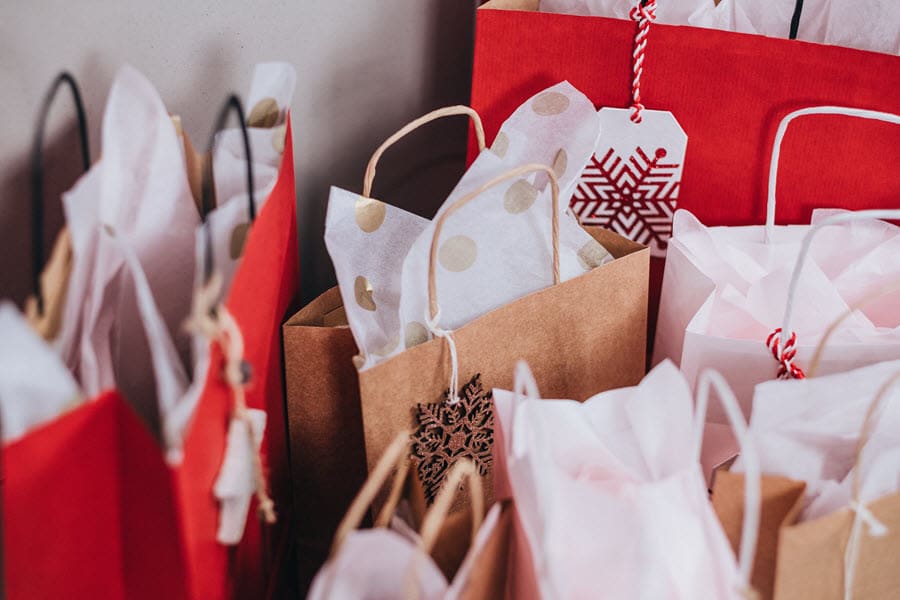 If the video tutorial seems like a bit too much effort, just cut out a sizeable piece and use it as gift wrap as below: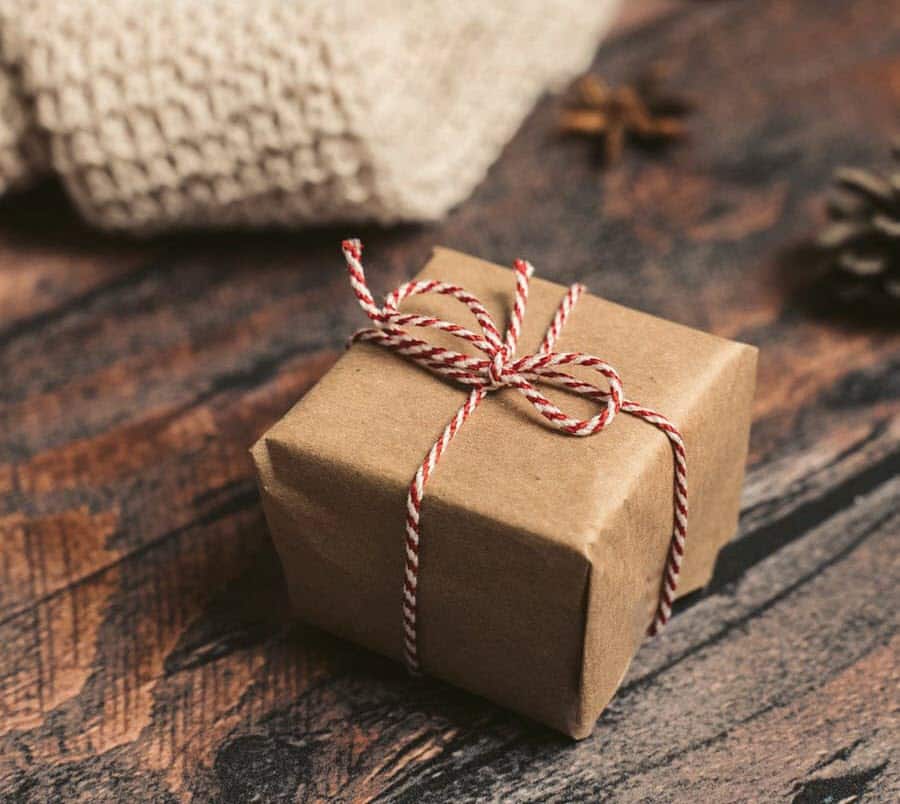 There are many creative ways to use paper bags or cartons, such as wrapping flowers in them. It gives it that extra rustic feel.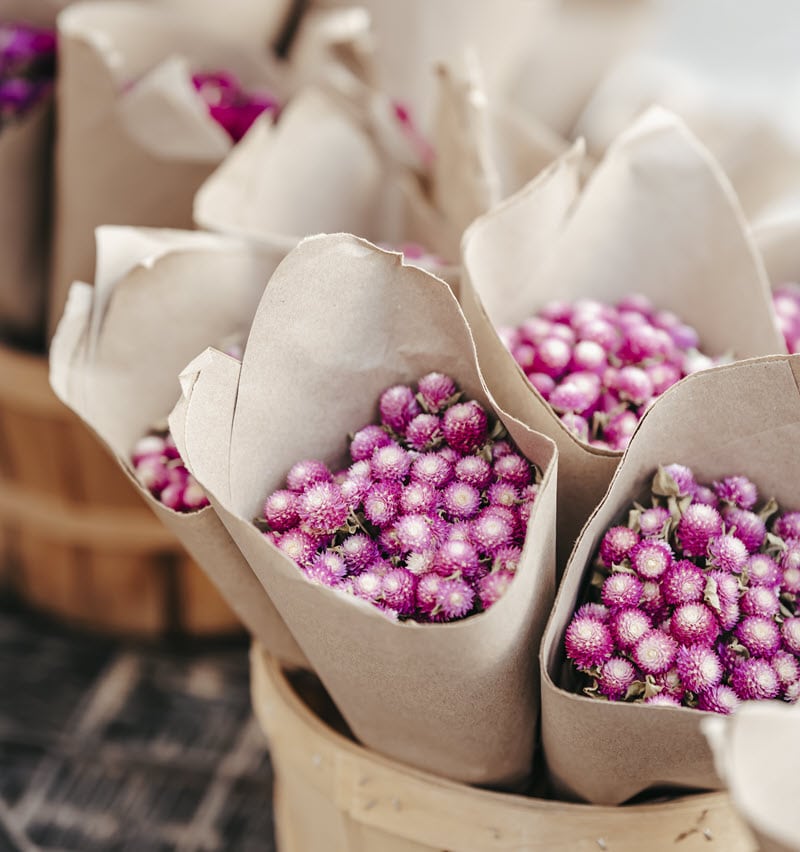 Chip bags
It might seem crazy to use an old chip bag, but look how elegant the wrapping can look. If the bag isn't big enough, you can use more than one and cover any odd spots with a ribbon or another decoration. Just make sure to wipe off the crumbs very well. I use a spritz of all-purpose cleaner to ensure that I take off any oily bits.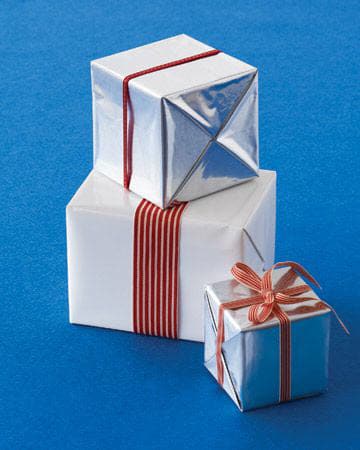 Metallic Box Liners
When I say you can turn almost anything into gift wrapping, I mean it. For example, the metallic box liners you sometimes get when ordering food can be upcycled into shiny and shimmering wrapping.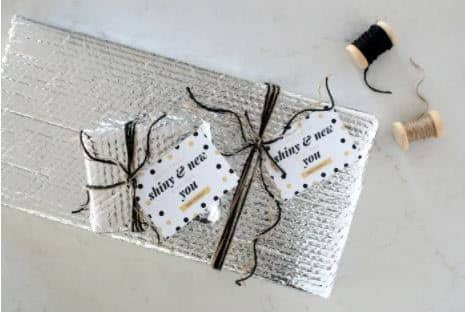 Bubblewrap
Keep any bubblewrap you receive from deliveries to wrap delicate gifts in for extra protection, but why not also use it as the actual wrapping itself?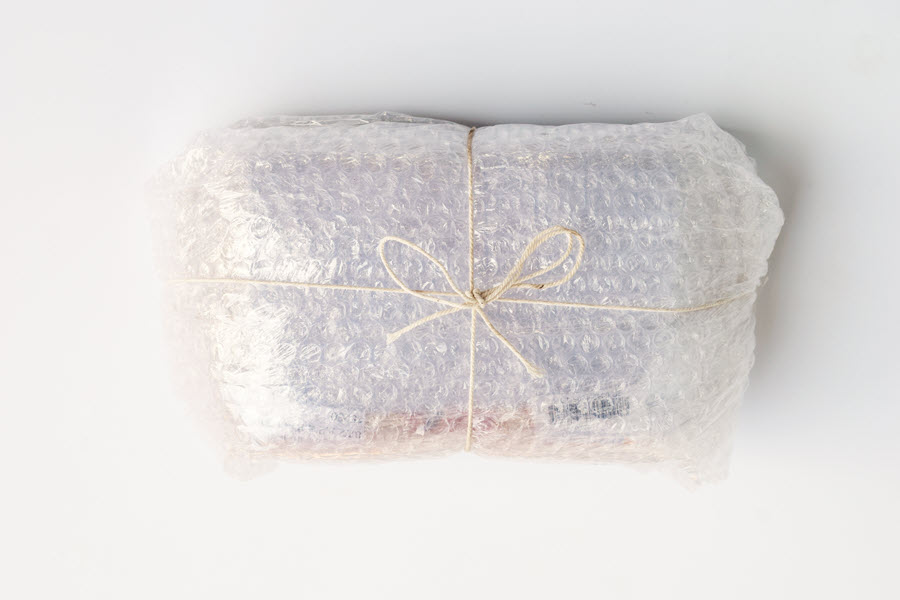 Cotton produce bags
You can use plain cotton bags for literally everything. However, as a gift bag, it looks sophisticated and minimalistic. This is one gift bag that the receiver can reuse even if they don't intend to pass it on as zero-waste wrapping.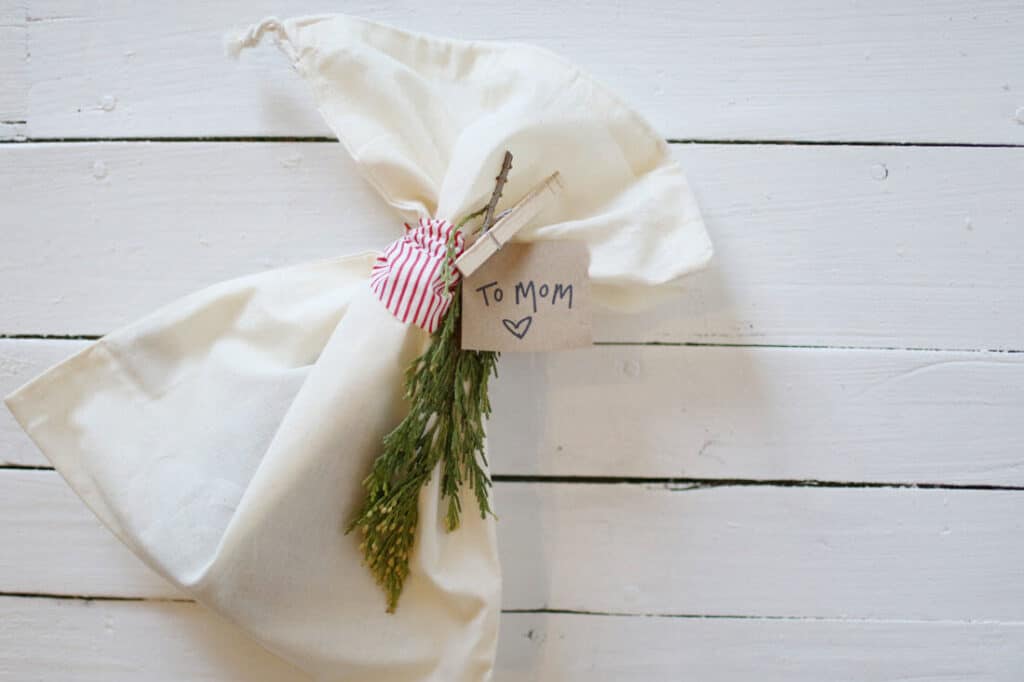 Tissue paper
We are bound to receive tissue paper in some delivery or out shopping. Never throw another piece away, as it's an ideal medium for zero-waste wrapping. Even if it's crumpled, it still looks good as wrapping —tie some twine or ribbon around it for a sophisticated finish. You can also cut it into thin pieces to wrap around a gift like the first image below.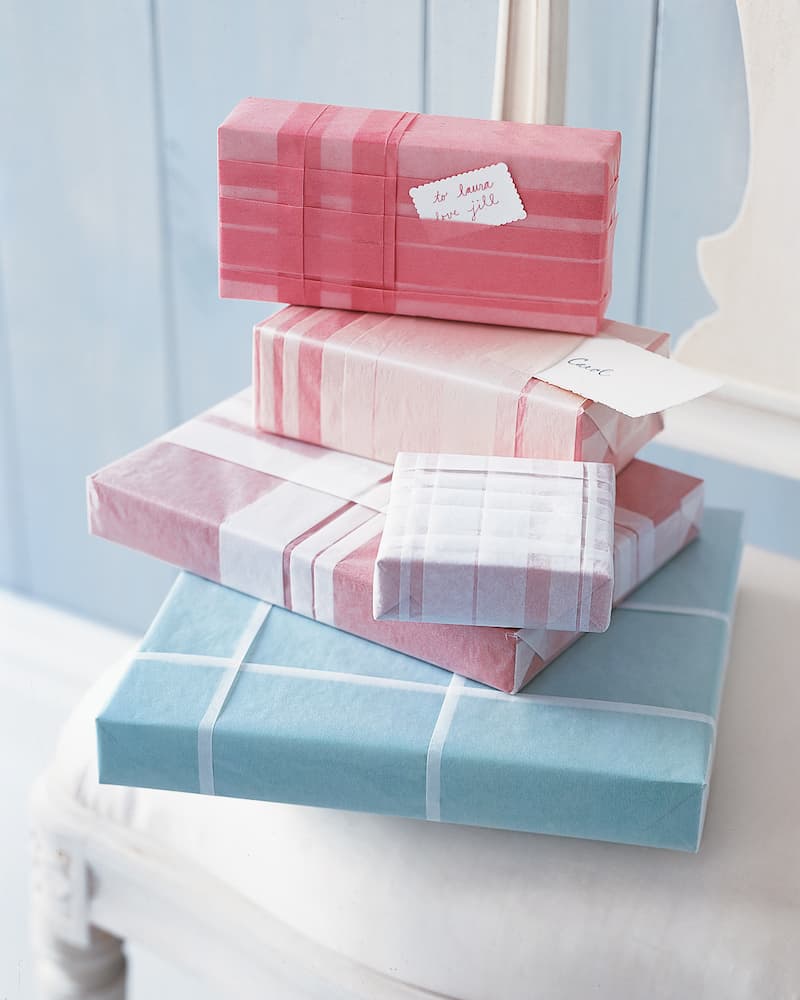 Glass jars
Upcycle any glass jar into a beautiful homemade gift. This is one of the stars in zero-waste giving as you can fill it with a variety of homemade, zero-waste products. Think about cookies you baked yourself, jams, preserved fruits, DIY body scrubs or ingredients for brownies such as in the jar below.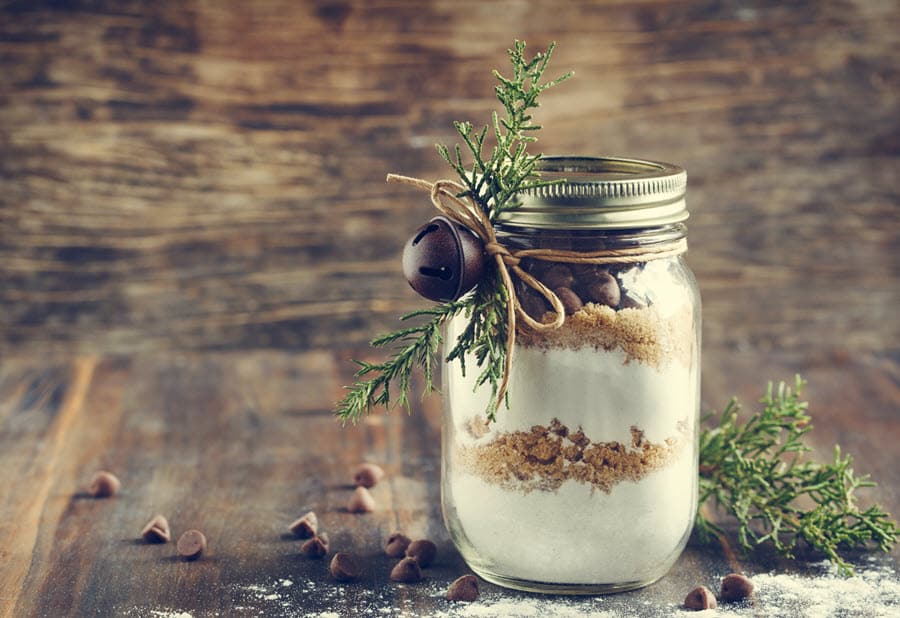 Vintage maps
Although almost no one uses maps anymore (Thanks, Google!), the travel-lover in your life will be ecstatic about receiving a gift wrapped in an old map. So keep your eyes out for discounted maps at bookstores, thrift shops and yard sales. Most likely, there are also a few lying around in your garage.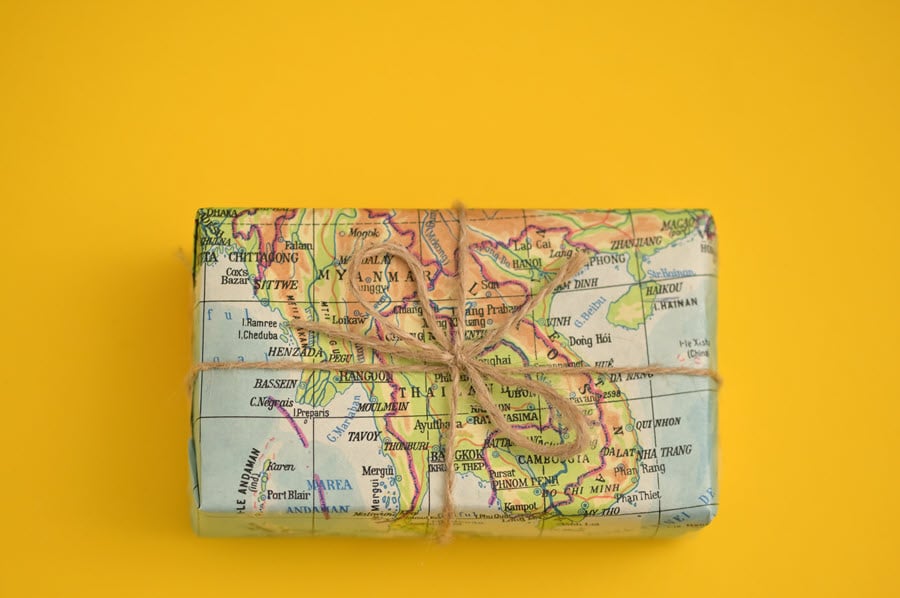 Old tea and cookie tins
This is one of those items that the receiver can repurpose for so many things other than zero-waste gift-wrapping. You can find beautiful vintage tins for a bargain at flea markets and thrift stores. Or maybe your grandma wants to part with a collection of tins. Add a bow or some ribbon to make it extra festive.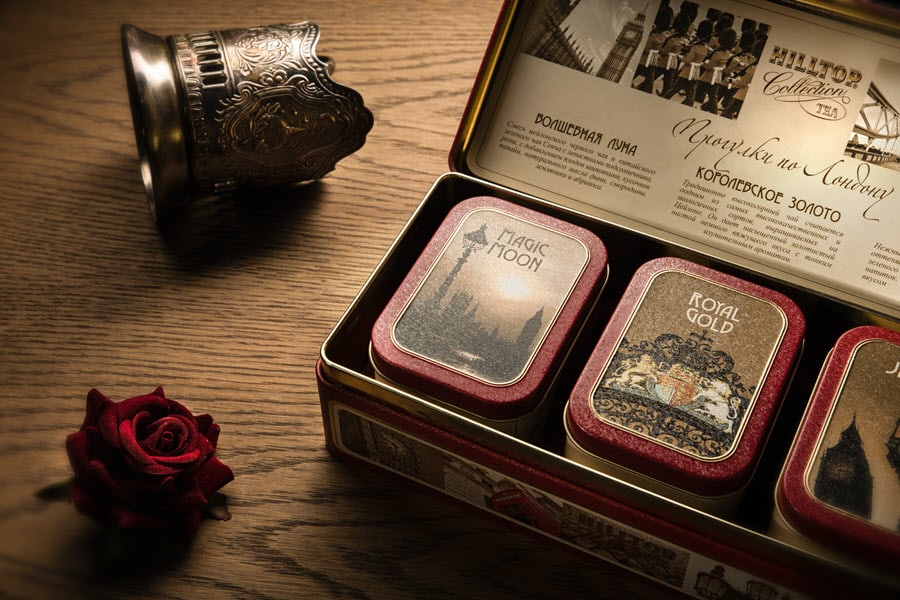 Kid's artwork
It's so easy to forget about all those masterpieces the little ones created once upon a time. Put their art pieces back in the limelight by wrapping a family member's gift. Or keep them to wrap the kid's gifts in it one day when they are all grown-up. If the artwork isn't big enough to wrap the entire gift in, wrap it in kraft paper and stick it on.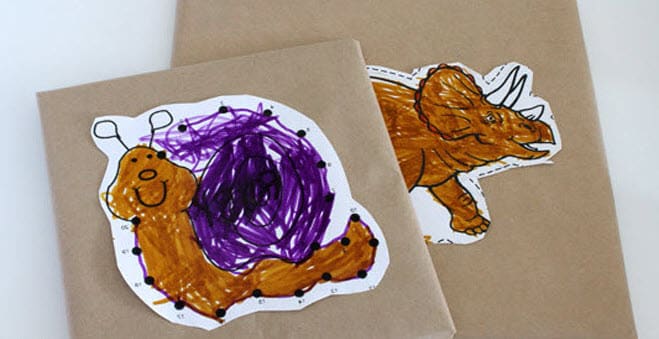 Old posters and colorful magazine pages
Those old glossy posters and magazines are a treasure trove for zero-waste gift wrapping. If you prefer to wrap the gift in kraft paper, you can still use magazines to create beautiful bows. Ideally, you can find a magazine that the receiver will enjoy. For example, wrap a gift for a plant-lover using the pages of a gardening magazine.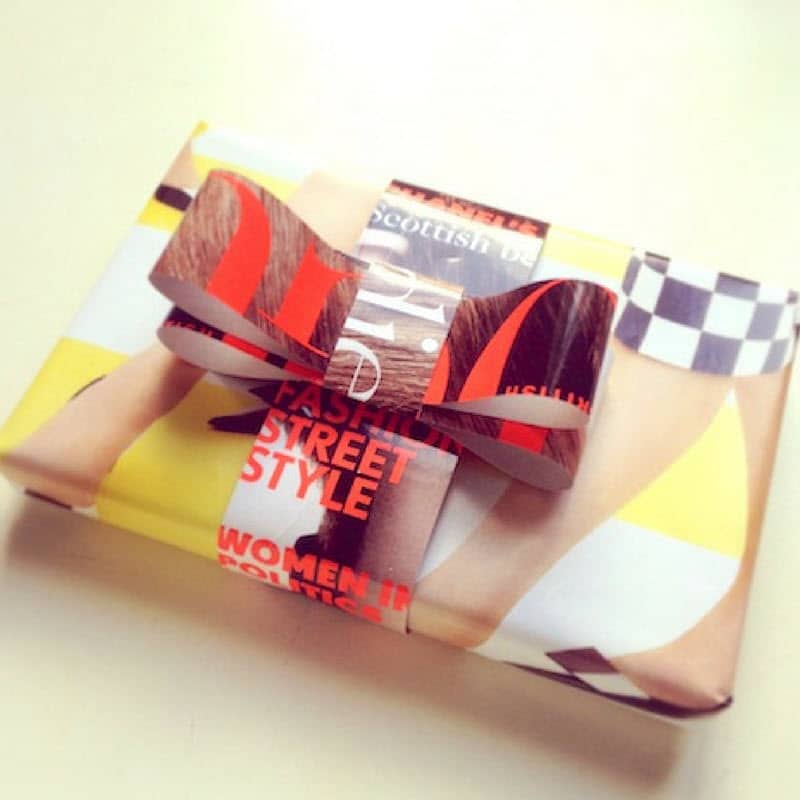 Flower seed paper
Seed paper contains seeds, so this paper can just be stopped in the ground, then watered, and lovely wildflowers will grow in just a few weeks. No green thumb is required. This will make the receiver remember their gift for the whole growing season. Any gardeners in your life will be over the moon to receive a gift wrapped in this paper.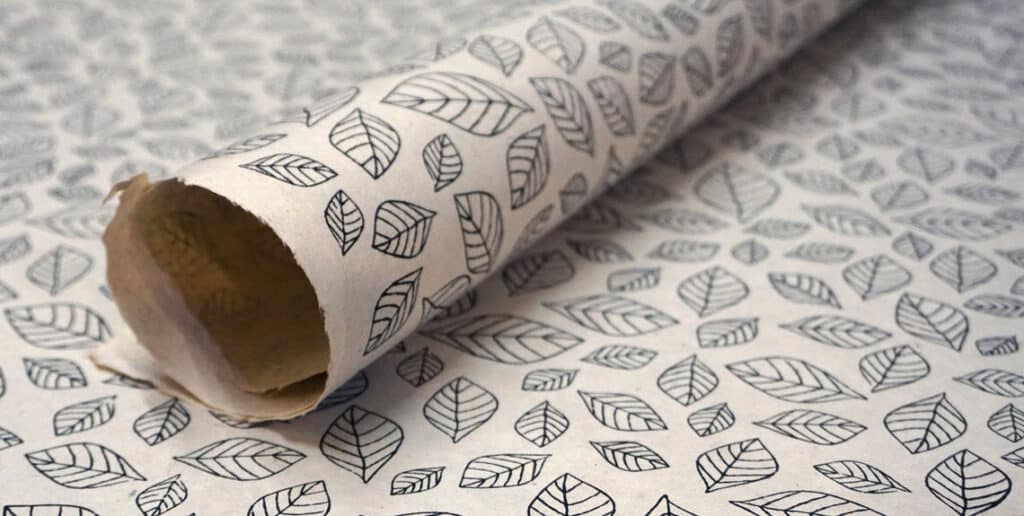 Tote bags
A cute tote bag is a gift in itself, but wrapping another gift with it is spoiling someone. So have a look at this easy tutorial to make your tote-bag wrapping look flawless.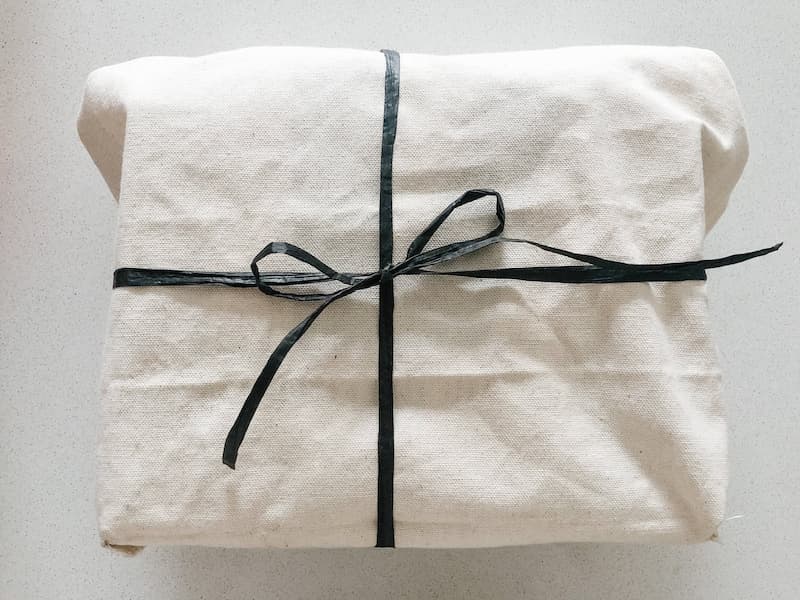 Cardboard boxes
This wrapping option can be as straightforward or as advanced as you want it to be. For the experienced DIY-ers, you can use any food box and repurpose it into a gift box. It does require some patience and accuracy, but the end product is a cute keepsake. For example, the box in the image was made from a butter box. See the detailed step-by-step guide here.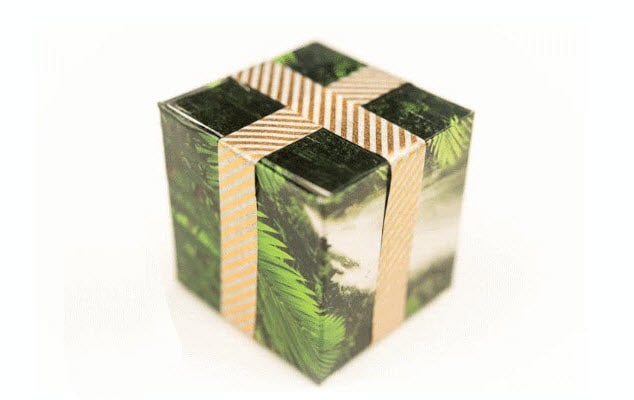 An easier option is to wrap an existing box such as a shoebox with kraft paper, leftover wrapping paper or newspaper. You could also decoupage it with images from magazines.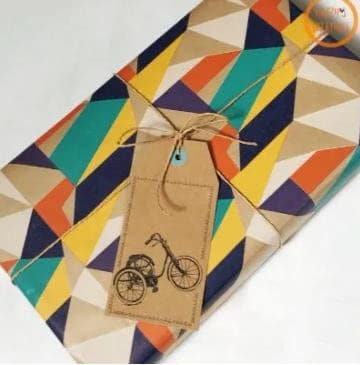 Natural Beeswax wraps (vegan options)
These wraps have become a staple in households that live a zero-waste lifestyle as they completely replace the use of single-use plastic to cover leftover food or bread. Thus, this is the ideal wrapping medium for your environmentally conscious friends. Or even better for those friends that you might want to give a little nudge into the more eco-conscious lifestyle. Vegan ones are also available now, so opt for those for the optimal sustainable choice.
See the beautiful beeswax wrapping on the right: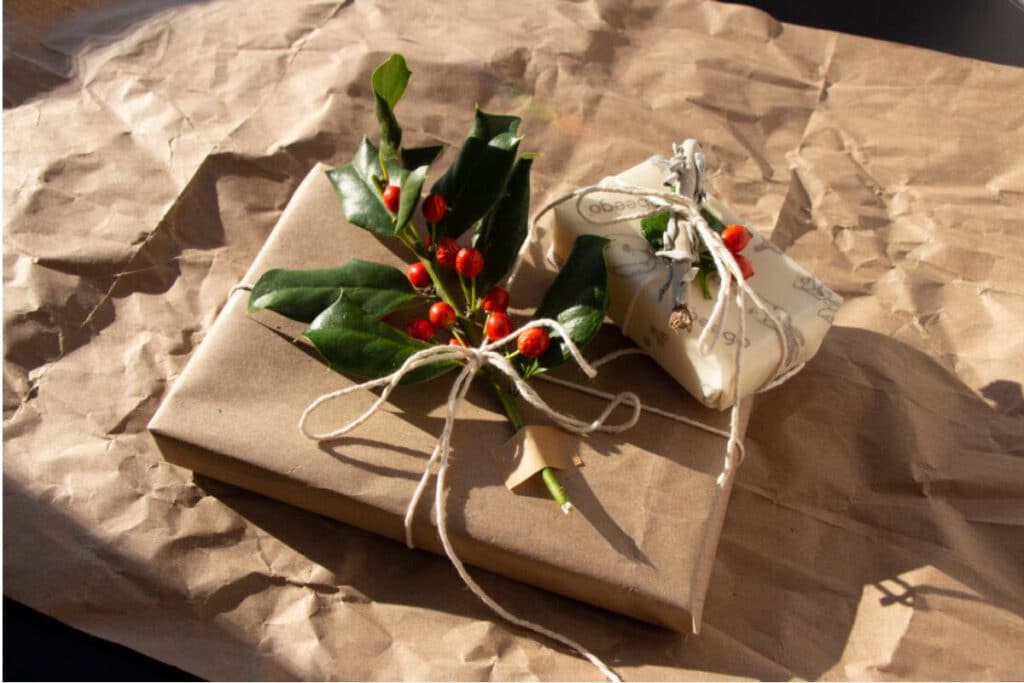 Clay pots
Who doesn't love a cute clay pot? It's an obvious gift (or gift container in this case) for the plant-lovers in your life. You can use the drip dray as a cover as in the image. Fasten with some twine or a ribbon as a final touch.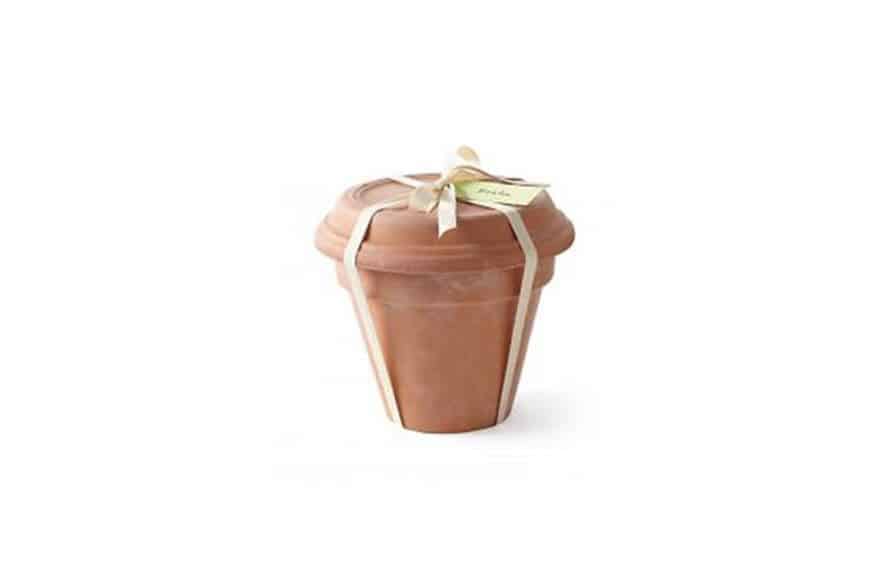 Old calendars
Calendars are great options to be upcycled. If you have those flip calendars with beautiful photos for every month, be sure to keep those to stick onto wrapped gifts. When using the calendar as wrapping paper, make sure to mark the person's day to make it even more personalized.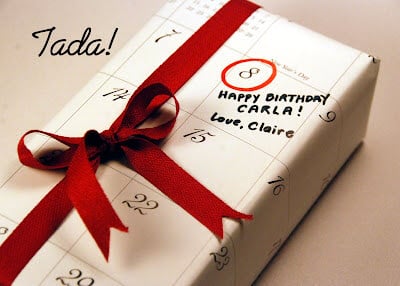 Reuse old gift wrap paper
If you still have some old gift wrap paper that may or may not have been used before, you can find a way to repurpose that. For example, if you tore open a gift in excitement, the paper is probably in bits and pieces, but you can still use it to create little ornaments from it.
For example, you can cut out little strips and turn them into a Christmas tree. However, keep in mind that the addition of gift paper with metal or plastic in it may ruin the option that the rest of the gift wrapping can be recycled. Or salvage pieces from the old wrapping paper that can be reused for smaller gifts.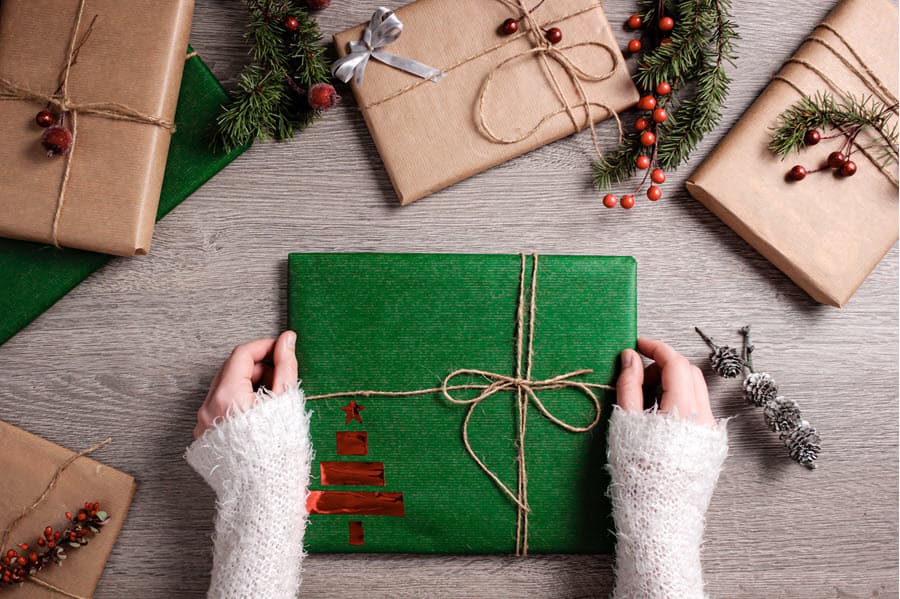 Want To Skip The DIY?
If you are new to DIY, we can understand that some of these options might feel intimidating or just plain time-consuming. Fortunately, you don't have to give up on being an eco-conscious gift-giver this easily! Instead, have a look at a few of our favorite zero-waste gift wrap options that you can buy with minimal effort.
This London based company makes easy to use reusable material gift wrapping in a variety of gorgeous fabrics. While they have a variety of colors and plenty in elegant nude shades, they also have wraps with funky colors that even kids are sure to love.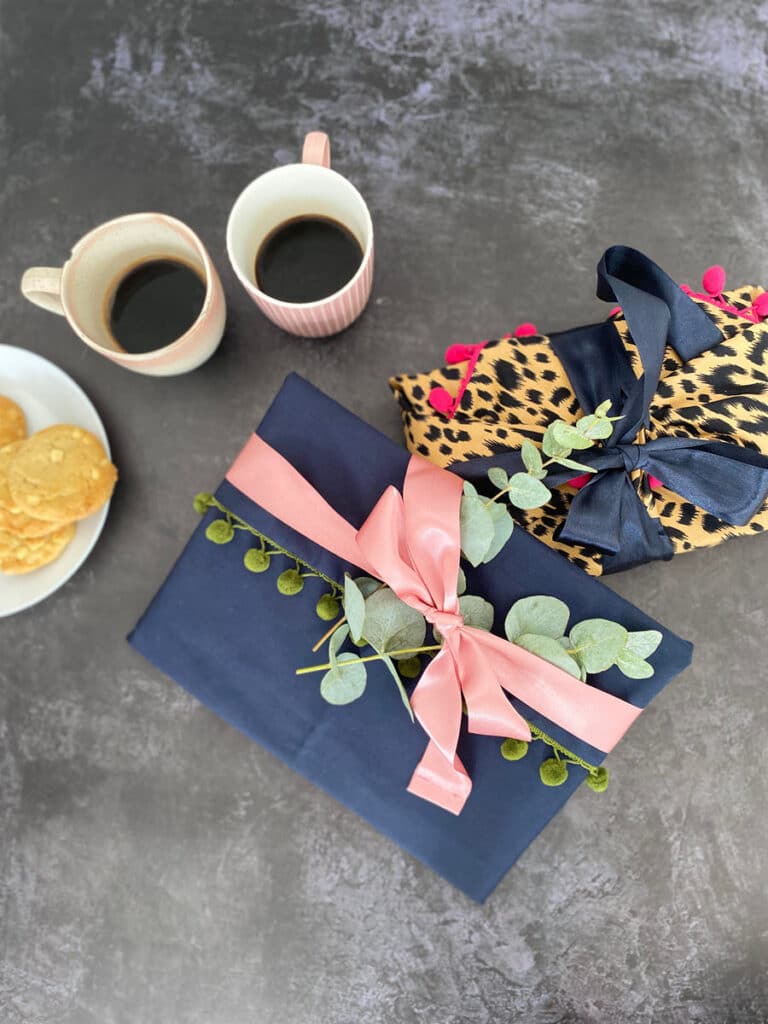 FabRap makes beautiful reusable gift wraps from 100% certified organic cotton. Be sure to check out their handy size guide here. This serves as a fantastic guideline if you even just have an old t-shirt you want to cut, but you are unsure about the right size.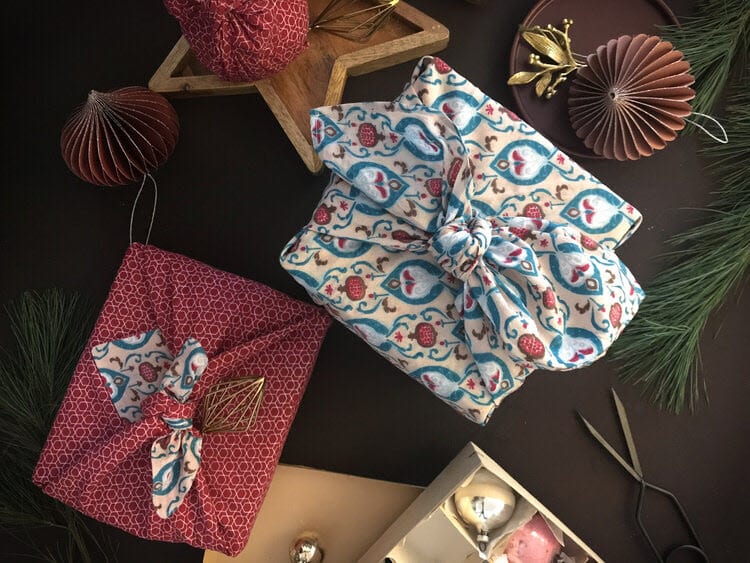 Wrappr takes beautiful design a step further by collaborating with artists to design their furoshiki gift wraps.
We also loved the overview of different uses for their wraps on their website If you are looking for different ways to use your wrap. You can shop by material and size, making shopping a breeze.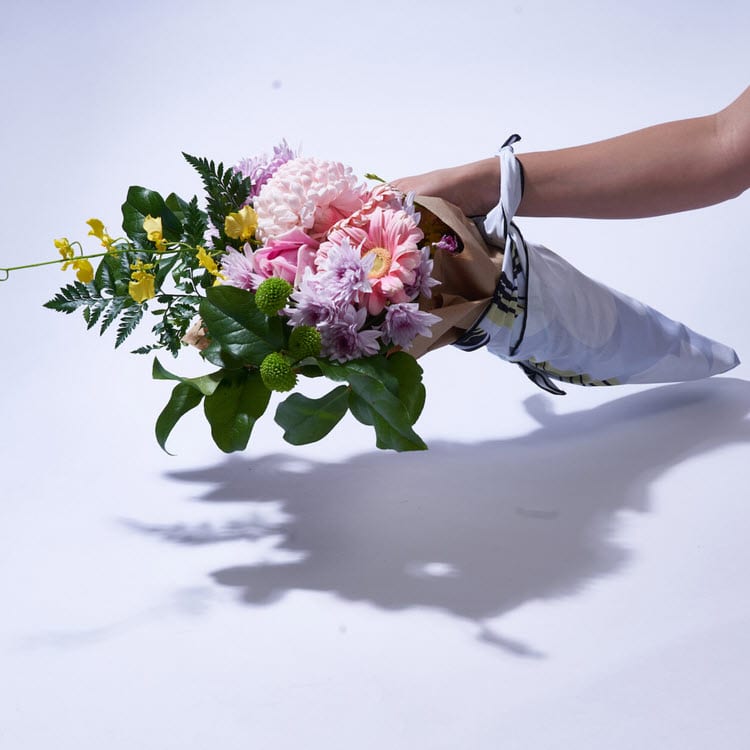 WragWrap is another excellent option to shop for luxurious reusable material gift wraps. Most wraps you can buy online are double-sided, so passing around a reusable wrap won't get boring.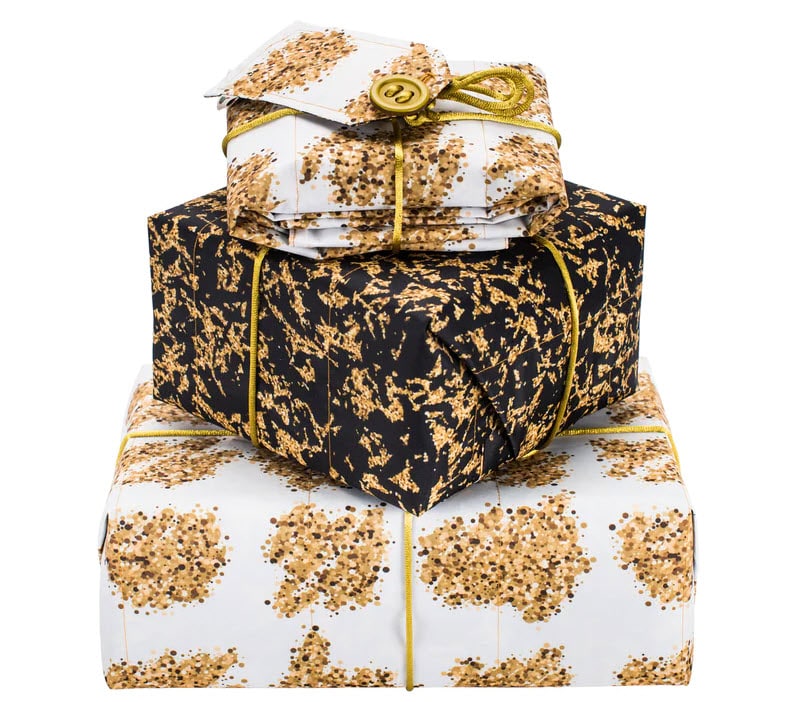 Don't Trip Up on the Fastenings: Go Zero-Waste Every Step of the Way
You've gone to all the effort to find the perfect zero-waste wrapping for your gifts. So don't trip up on the last steps of finishing your gift: the fastening and decoration to make it stand out.
Our go-to way of wrapping a gift tends to be sellotape or sticky tape. Unfortunately, it's not recyclable as it contains polypropylene (plastic). Fortunately, there is an abundance of alternatives to using sellotape. Read on to discover our best recommendations for making your gift wrapping 100% zero-waste.
Zero-Waste Hacks To Fasten Your Gift
Sellotape (cellophane tape) seems like such a small part of the whole gift-wrapping process, but the effect on the environment is disastrous.
More than 6 million rolls(4) of sellotape are used in the UK alone during the Christmas season. That amount is enough to cover the distance between the earth and the moon and back again.
Sellotape cannot be recycled as it contains soft plastics that are unlikely to be biodegradable or difficult to break down. So even if you wrapped your gift with recyclable material, the sellotape on the present would prevent it from being recycled. Fortunately, there are a bunch of alternatives to tape available. We listed a few of our favorite methods.
Biodegradable Paper Tape
If you want to stick to something more akin to normal sellotape, there's a wide variety of products available. Biodegradable paper tape, for example, can either be composted or recycled. You can buy this here.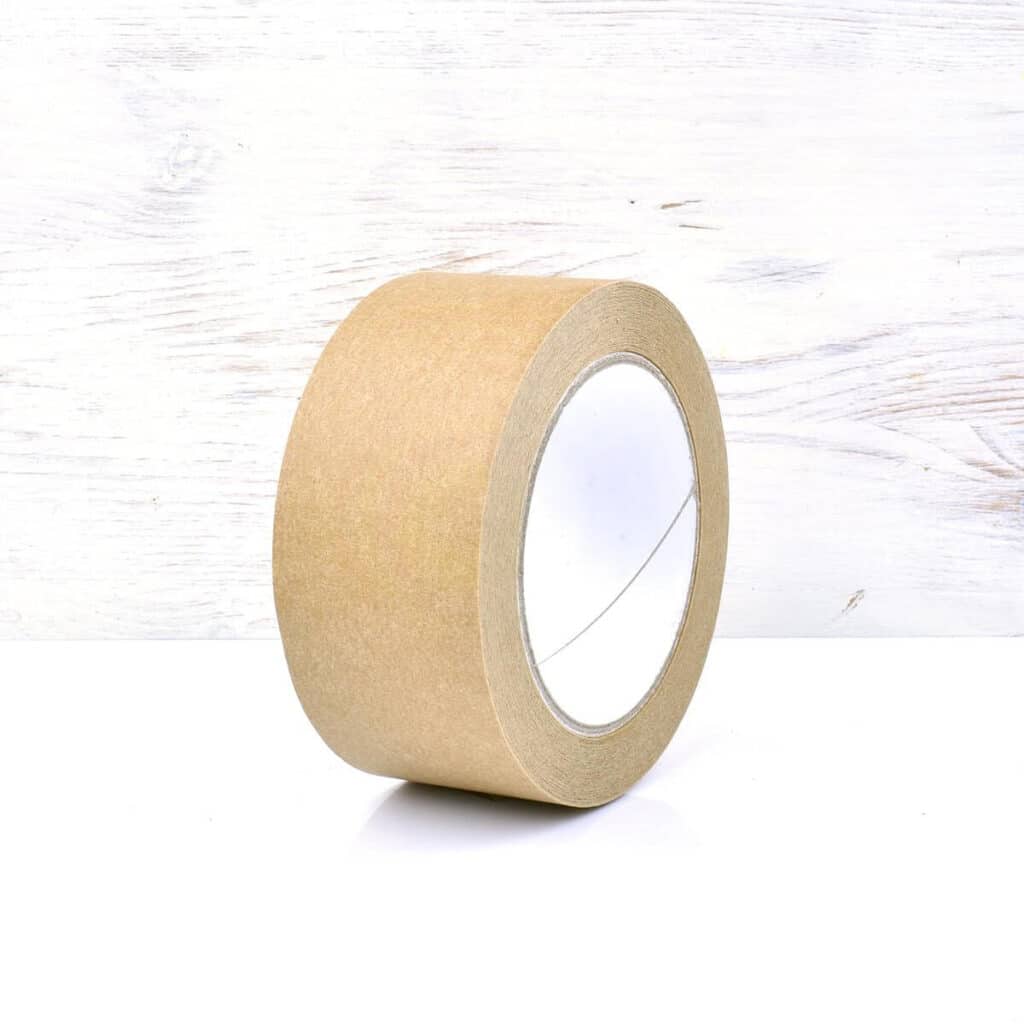 Commercial Eco-friendly Tape
You can also find eco-friendly tape from well-known brands such as Tesa, so most likely, you don't even have to order the tape online. For example, Tesa sells packaging tape made from 100% recycled plastic.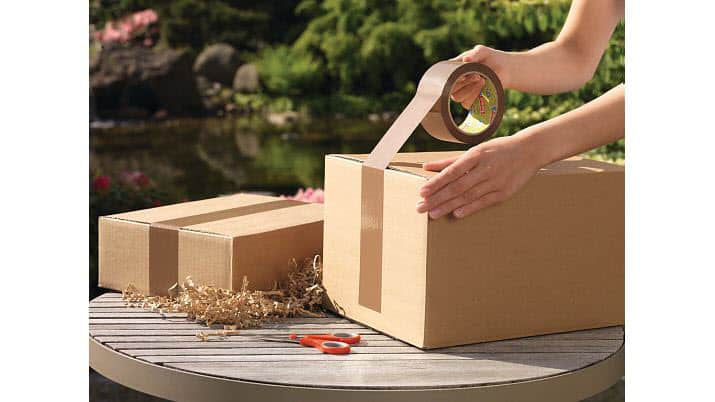 Washi Tape
The Japanese didn't only introduce us to Furoshiki, but also to incredible washi tape. Whereas many paper types are made from tree pulp that requires trees to be chopped off, washi comes from Japanese shrubs. Therefore, Washi tape is deemed a highly renewable source, and it's biodegradable.
You get beautifully designed Washi tape, so using this would add an extra layer of personalization and luxury to your gift.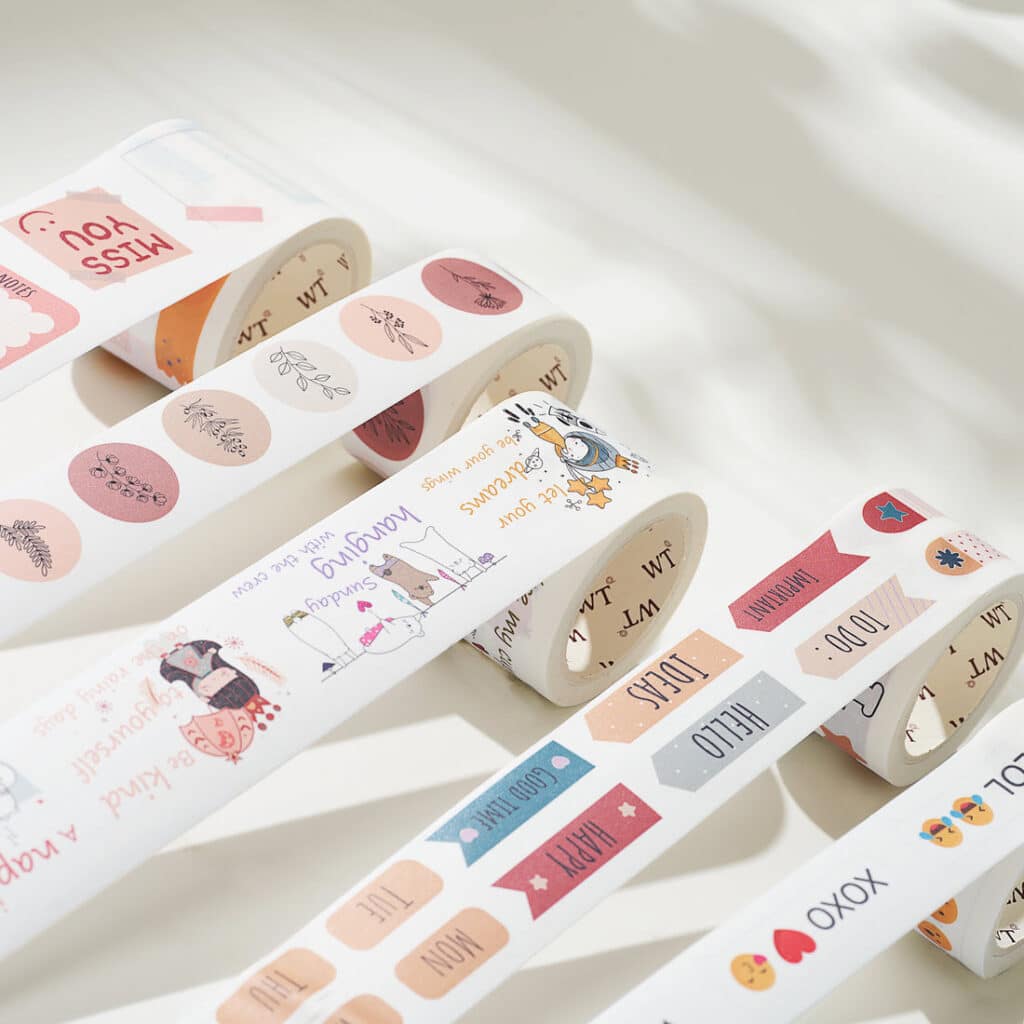 No tape needed
You don't even need tape to wrap a present. Instead, there is a technique that relies on some essential origami paper-folding principles to wrap a gift without any tape or other fastening. This post on Marta Stewart's website provides you with an easy step-by-step way to do it.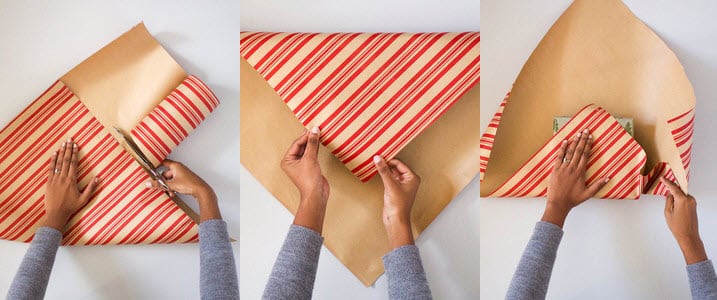 Twine
Twine is one of the easiest and cheapest ways to tie your gift. It makes any gift look personalized and stylish. The red and white twine is perfect to use around Christmas for that extra festive feeling.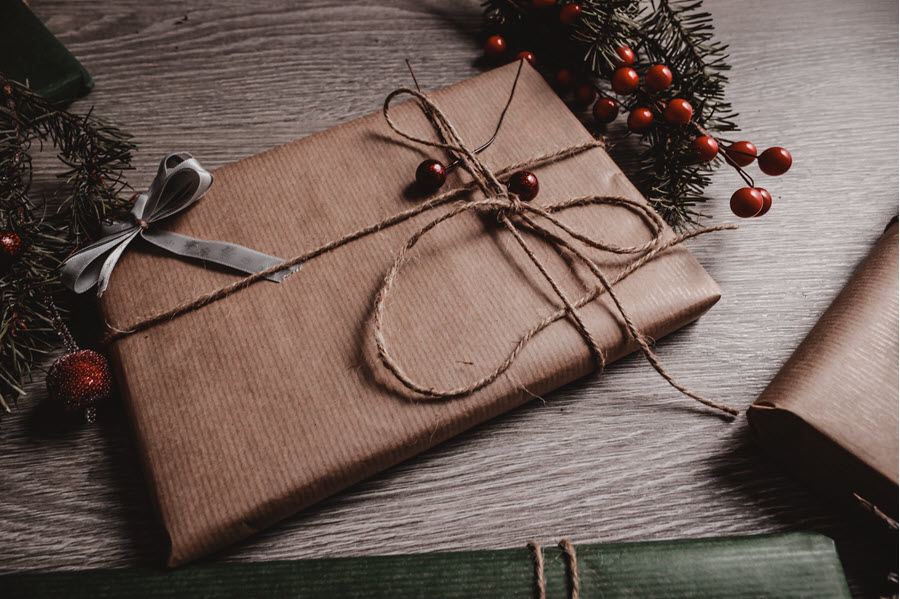 Ribbons
Ribbons are one of the most elegant ways to fasten your gift. They come in various colors, and the best part is that they are reusable. Before adhesive tape was invented around 1930, people skillfully secured wrapping paper with ribbon or string and sealing wax.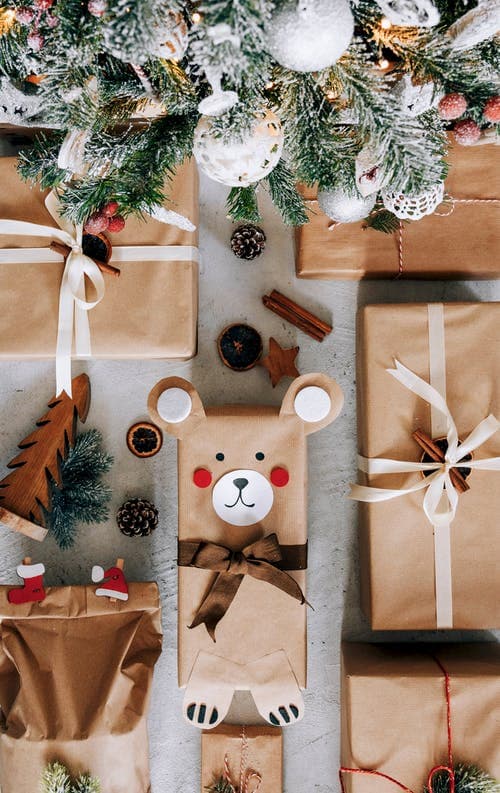 Upcycled material and wool
Your old scraps of material or upcycled t-shirts are not only for Furoshiki! Cut pieces off, and you can use it in the same way as string or twine to wrap your presents.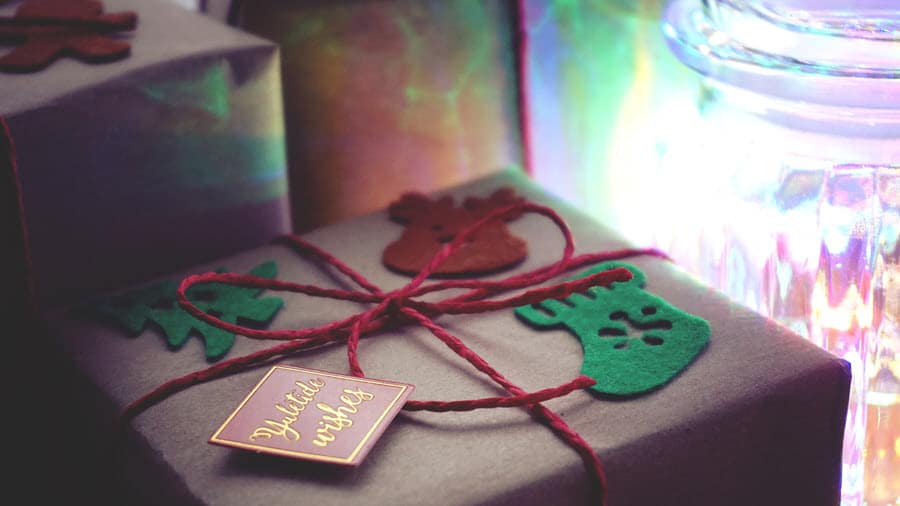 Zero-Waste Gift Wrap Decorations
Take your gift to the next level by adding those final touches to your wrapped present. This is also a great way to distract from any less-than-perfect wrapping skills. The gift decorations you can use can almost all be found around the house.
Dehydrated citrus
You can use orange, limes or lemon for this type of decoration. They also look beautiful on the Christmas tree, so don't shy away from making extras if you are baking a batch of these. It's super simple to do. Just cut your fruit into thin slices and put them in the middle of a cloth tea towel. Pop them onto a metal drying rack for 24 hours before baking them for 2-3 hours at 200°F (90°C).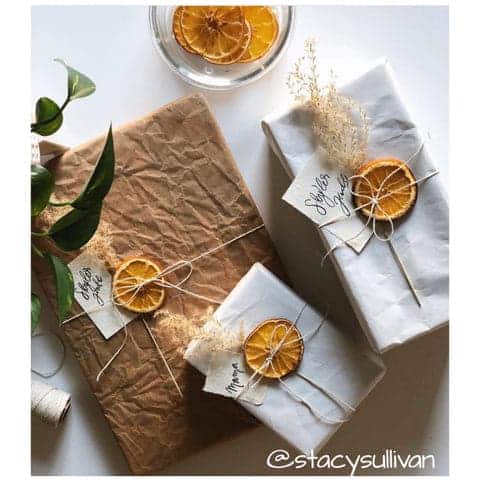 Cinnamon Sticks
Tie cinnamon sticks with a bit of greenery and maybe even a dried orange for a very tasteful gift.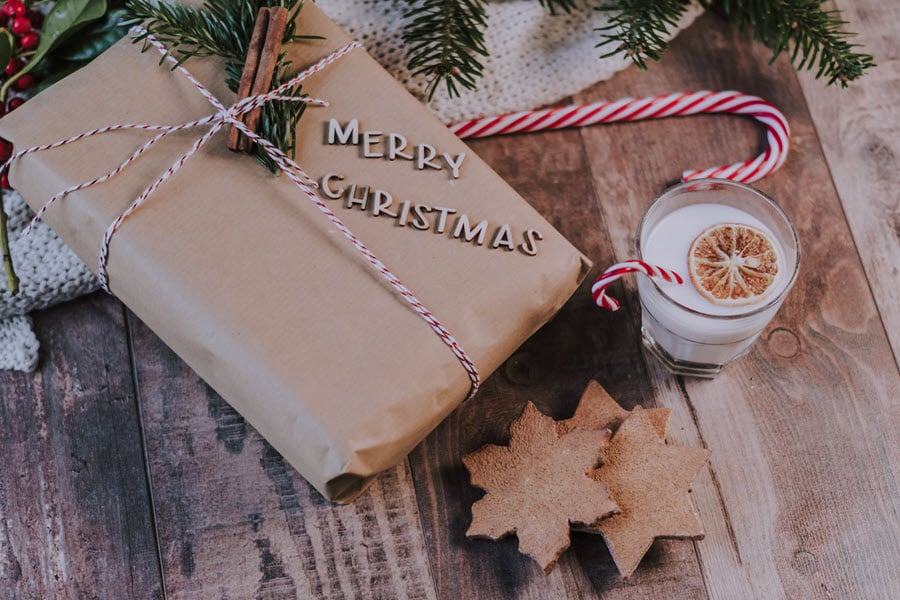 Brooches
Old Brooches that you aren't wearing or ones from the thrift store can make a gift pop. Especially when you add them to a gift wrapped in a napkin or scarf, they work particularly well.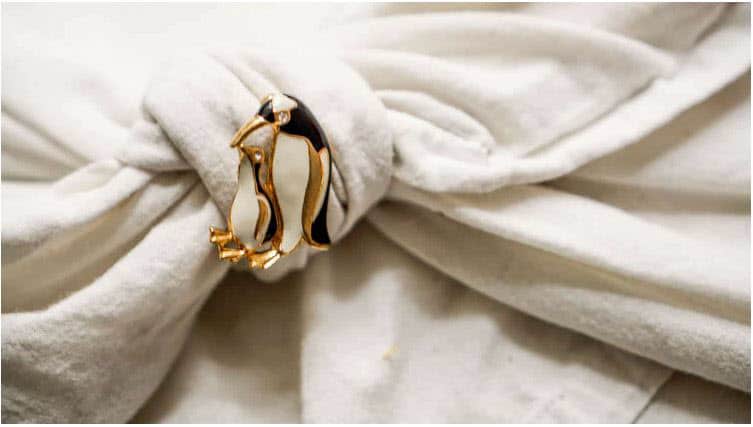 Ornaments
Ornaments will make your gift stand out. Just tie it up with some twine or any fastening material onto the gift. Bonus points if you can find a lovely Christmas ornament that the receiver can hang onto their Christmas tree or use as decoration.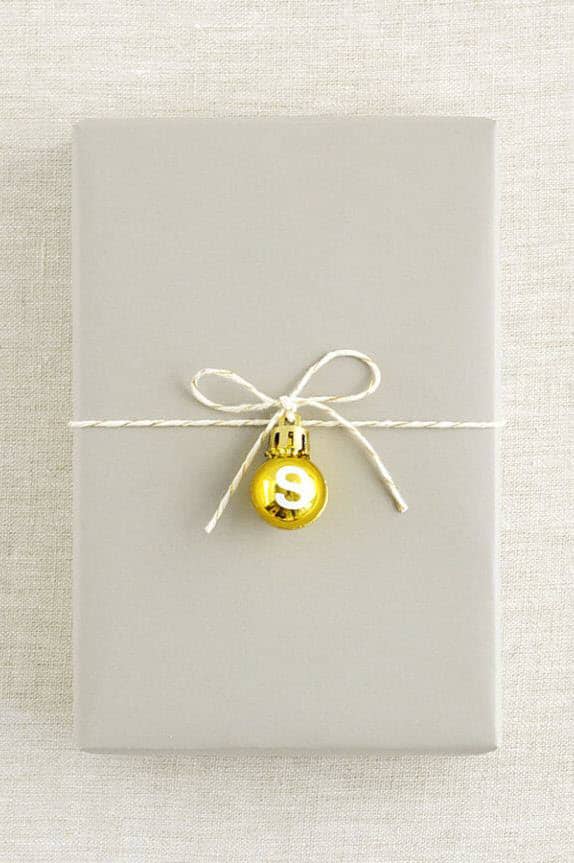 Vintage or costume jewelry
We all have some old jewelry lying around the house, like ornaments and brooches; they add a unique element to gifts.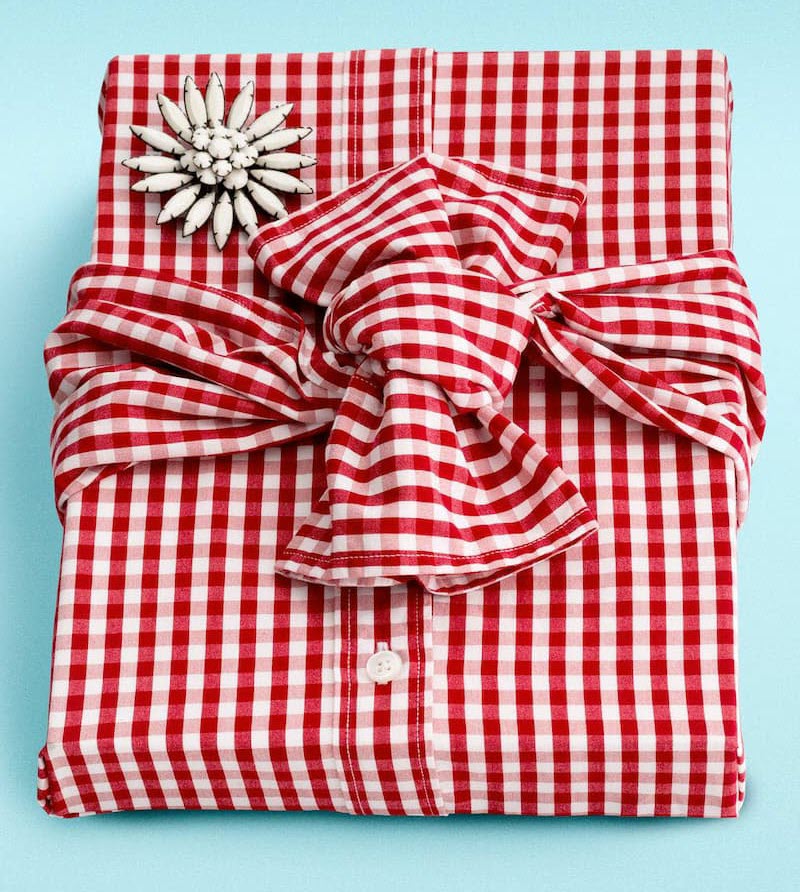 Fresh herbs
Fresh herbs such as Rosemary and Sage are our favorite decorations to add to gifts, but any herb works. It's so easy to jazz up any gift; you almost have no excuse not to.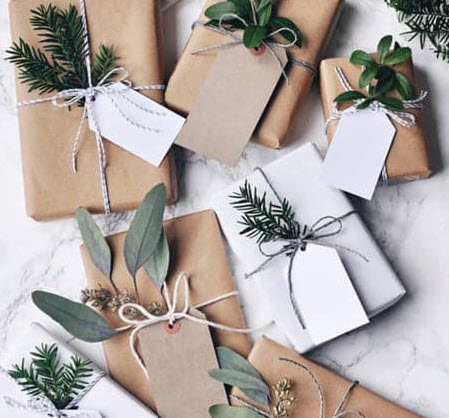 Pine needles and Christmas Tree springs
If you don't have any trees around you, just walk by the spot Christmas trees are sold and gather a few needles. Not only does it make a gift look festive, but the smell of the pine needles is also divine.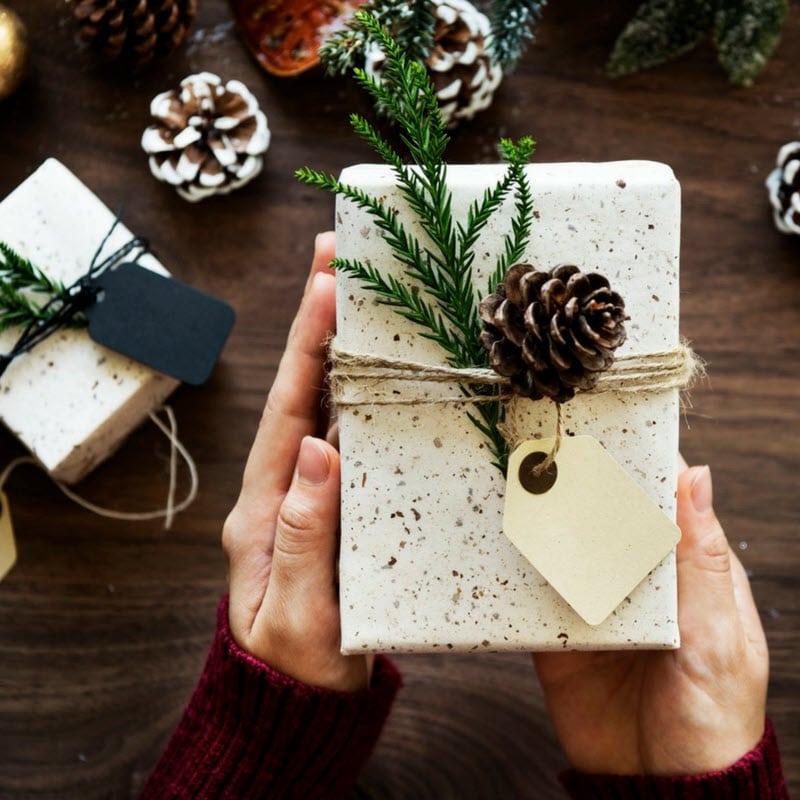 Fresh or dried flowers
Nature is full of ways to decorate your gifts. Use either fresh or dried flowers to round off your present. In addition to being perfectly bio-degradable, it's completely accessible and free!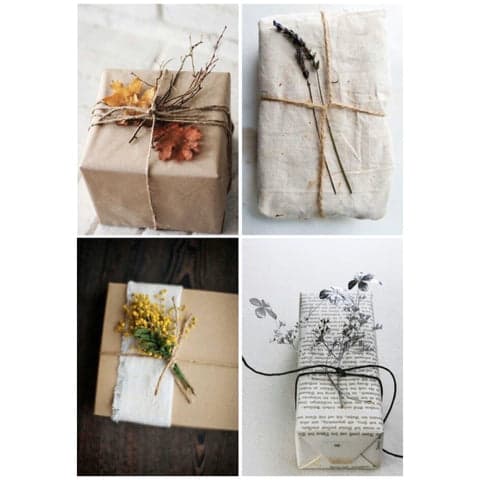 Old Christmas and birthday cards
This is probably the easiest way to decorate your gifts. Keep all old cards you get and cut off the part that doesn't have any writing. Then, voila, you have a beautiful, high-quality photo to stick onto your present.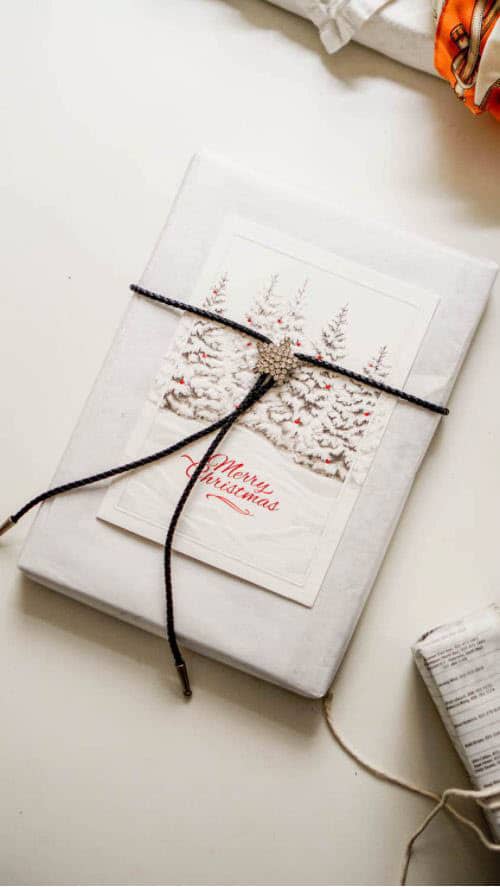 Kids artwork
Not only can you wrap gifts in old artwork, but you can also turn them into little ornaments to decorate gifts with.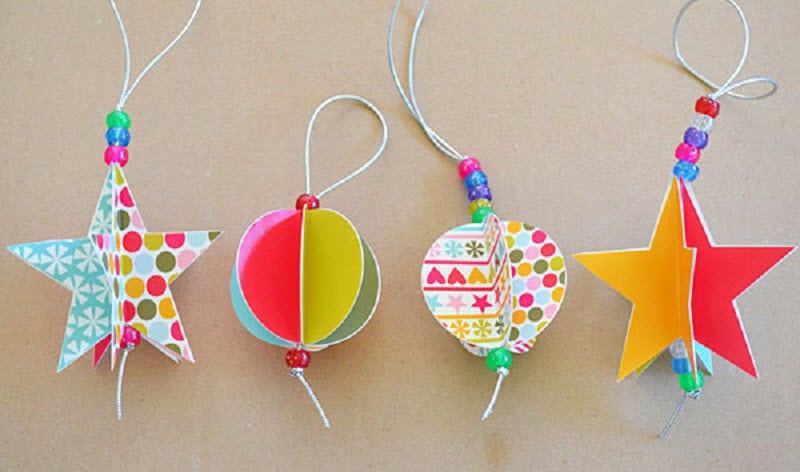 Origami shapes
There are so many shapes you make out of upcycled paper. For example, an origami star is a beautiful decoration for a gift, but it's also a beautiful addition to a Christmas tree or anywhere around the house. Stick it on windows or use them as original dinner place party settings. For easy instructions to make these stars, check it out here.

Shopping Bag and Paper Bows
The perfect way to use up those last bits of newspaper or magazines is to turn them into these beautiful bows. To make this beauty, all you need to do is cut four even strips of paper approximately ½ inch thick each. Then, one by one, you fold in the outer edges and secure it with glue or tape in the center. Repeat with the rest of the strips. To get the effect outlined below, repeat the steps, stick the two separate bows onto each other, and secure the bottom on top with more tape. You can also use almost any other material: plastic, old gift wrapping paper etc.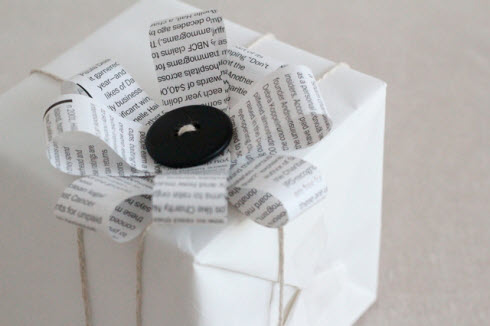 Buttons
We all have some old buttons lying around the house or sewn into clothes that we no longer wear. Upcycle it to adorn gifts with for an original touch using twine or paste it onto a piece of material first. You can even use the buttons as a cute stamp, such as in the photo below.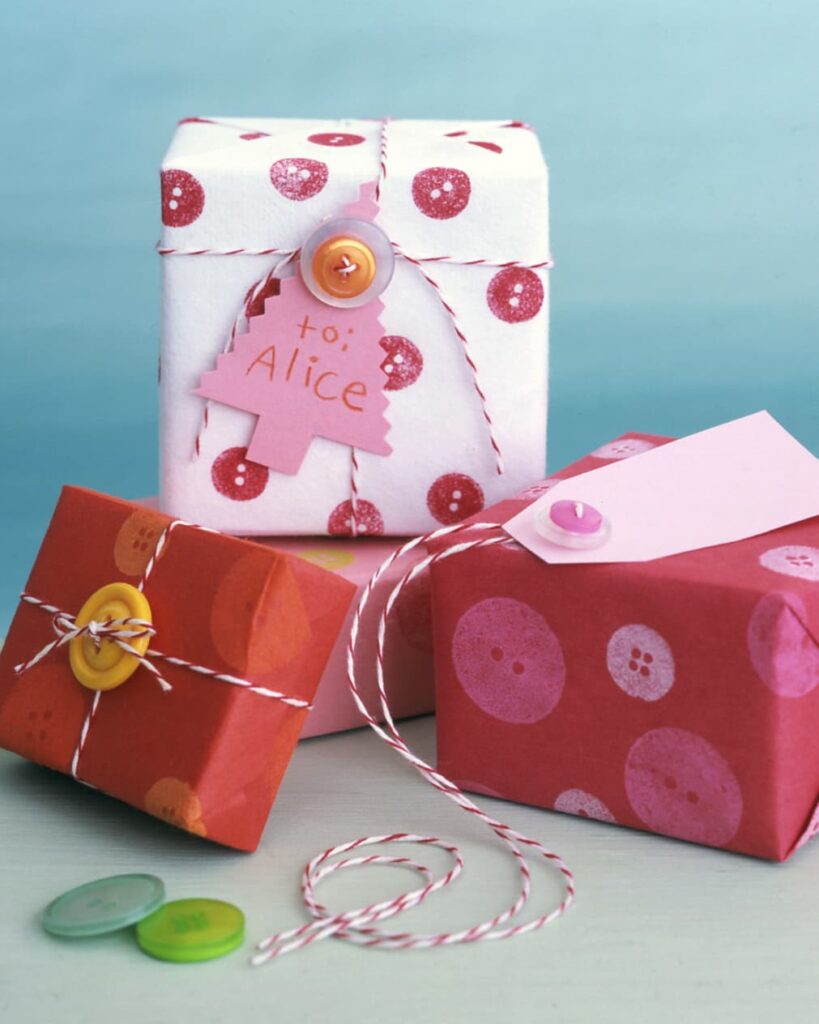 Add That Final Zero-Waste Touch
We've almost covered every element of how to transform your gift-wrapping game completely. But we have a few final tricks up our sleeve to make you a true zero-waste expert.
Decorative Seal
You can fasten the string or twine with an old-fashioned seal. Just make sure to pick compostable candle wax.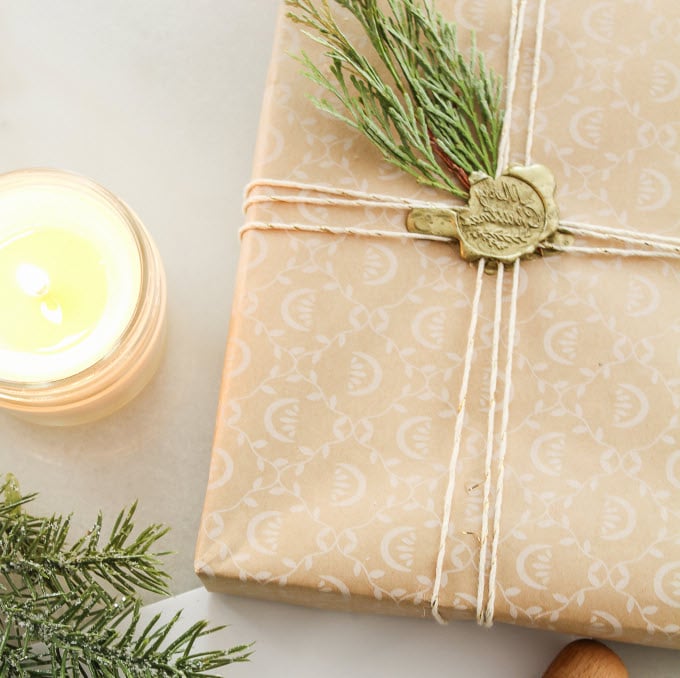 Stamps
You can buy beautiful stamps online to spruce up any wrapping paper you are using. See if you can get soy or vegetable-based inks as these are more environmentally friendly. You can even easily create your own stamps using potatoes. Here is an easy guide on how to do it.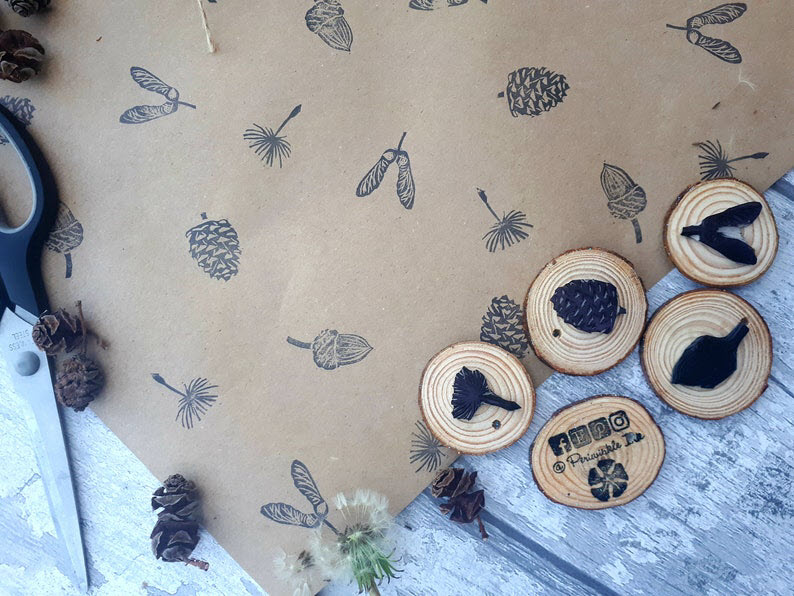 DIY Gift Tags
These DIY gift tags are stupidly easy to make. You can just cut the shapes from old cards or cartons or do it more professionally with a special tag paper punch.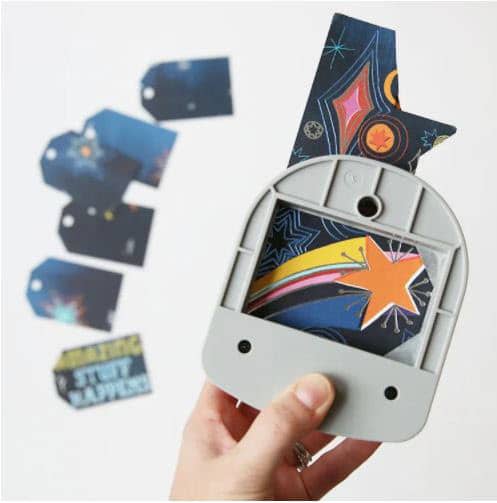 Seed paper gift tags
Like the seed paper gift wrapping, you also get smaller gift tags or even cards. These pieces of material can just be stopped into the ground and watered for beautiful wildflowers to grow in their place.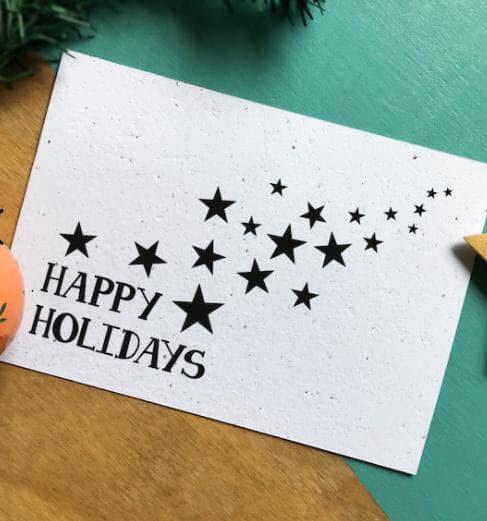 Start Your Zero-Waste Wrapping Journey
When you learn that in the United Kingdom, the amount of gift wrapping that's thrown away every Christmas total 384,400 km(5) (that's the distance to the moon!) it's hard not to reconsider our habits.
It's impossible to justify this eco-damage for the brief few moments that gifts remain wrapped. Fortunately, armed with this new knowledge, you can opt for more environmentally friendly wrapping when celebrating those special moments in a year. Not only will it benefit your pocket, but your loved ones will appreciate their bespoke wrapped gifts even more.
It might seem overwhelming at first, but it becomes a lot more attainable if you keep the basic principles in mind. They are: refuse, reduce, reuse, recycling and rot.  
When applying these principles to give wrapping, don't overcomplicate it. Think about wrapping a gift in a newspaper, tying it up with anything you have lying around the house, like an old ribbon or wool. Pick a flower outside or any greenery, and you have a sleek looking gift in minutes.
Don't get too caught up in the aesthetics of it. I guarantee you the receiver will appreciate the time you took to wrap their gift much more than that store-bought, glittery gift wrapping. Once you know how to do it, it will be easier the next time.
If you are short on time or not feeling inspired but still want to opt for something sustainable, don't forget many stores are selling zero-waste gift wrapping material.
Did we miss any zero-waste wrapping options in our list? Let us know in the comments.
Linked Research:
(1) https://www.bbc.com/news/uk-42426888#:~:text=We%20throw%20away%20an%20estimated,..%20more%20than%20eight%20times.
(2) https://globalnews.ca/news/3936851/how-much-christmas-wrapping-paper-tape-and-gift-bags-do-canadians-throw-out-each-year/
(3) https://www.gwp.co.uk/guides/christmas-packaging-facts/
(4) https://www.businesswaste.co.uk/sellotape-to-be-banned-to-avoid-a-landfill-disaster-after-christmas/
(5) https://www.gwp.co.uk/guides/christmas-packaging-facts/#waste